Jamie Foxx And Kevin Hart Team For 'The Black Phantom'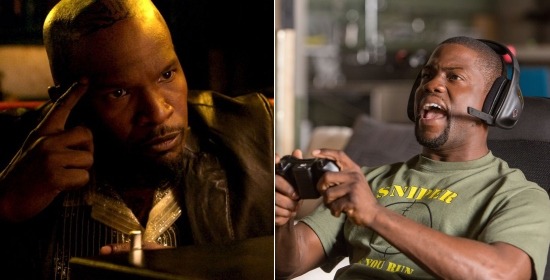 It's really, really good to be Kevin Hart right now. The rising star is coming off two big hits and has several more comedies lined up for the next few years, one of which is a sequel to this year's Ride Along. Now he's booked yet another high-profile gig: The Black Phantom, starring Jamie Foxx.
While the new movie is unrelated to Hart's burgeoning Ride Along franchise, it re-teams him with many of the same key players. Ride Along director Tim Story is in talks to helm, while Ride Along producer Will Packer is producing. Hit the jump to get all the details on the new project that has this team all hot and bothered.
The project has reportedly been on Packer's radar for a long time. The stars aligned when Ride Along turned out to be a huge success, and Foxx revealed an interest in working with Hart. Both actors are currently in negotiations. Producing with Packer is Will Gluck, who worked with Story and Hart on this year's V-Day hit About Last Night. He also recently directed Foxx in Annie, an updated version of the classic musical.
Hart is having a damn good year. Ride Along and About Last Night were both big moneymakers, and he still has Think Like a Man Too coming this summer. Considering what a smash the last one was, there's every reason to believe the sequel will be Hart's third box-office triumph of the year. In addition, he has The Wedding Ringer and Get Hard expected to open sometime in 2015, and was said to be in talks for Adam Sandler's Pixels.
Foxx isn't faring so badly either. He has a major villain role in The Amazing Spider-Man 2 this summer, and Annie due out at the end of the year. Both are Sony pics. The Black Phantom keeps him in business with the studio, as it's set up at Screen Gems.