'Noah' Trailer: Now With More Emma Watson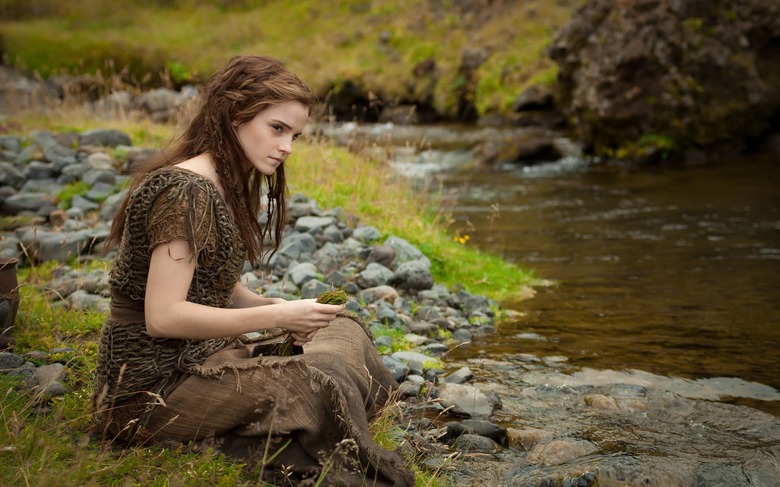 Most of the earlier promos for Darren Aronofsky's Noah have (quite reasonably) focused on three elements: Noah, his ark, and the flood. But there's a whole great supporting cast behind those main focal points, and the latest Noah trailer focuses on one of them.
The promo is introduced by Emma Watson, in an adorably flustered fashion, and features tons of new footage of the Harry Potter actress. Fans of hers will be happy to see she gets all sorts of things to do in the movie. It's not just standing behind Russell Crowe looking vaguely concerned. Watch the new Noah trailer after the jump.
My main issue with this trailer: That's not what a hashtag looks like, Emma! Everyone knows this is the proper way to say "hashtag" with your hands.
That snag aside, this trailer offers an interesting new angle on the movie. The film isn't as Watson-heavy as this ad makes it look (as far as we know), but it makes sense to play up her role here since the video is specifically aimed at her fans. The earlier trailers haven't paid much attention to her character, so it's nice to get a better sense of just how she fits in.
Watson plays Ila, the love interest of Noah's son Shem (Douglas Booth). Coincidentally, Watson's Perks of Being a Wallflower co-star Logan Lerman plays Noah's other son, Ham. He gets plenty of screentime in this promo too.
Reviews for Noah aren't out yet, which means we'll have to wait and see how Watson's performance in the movie pans out. But reactions to early screenings suggest that the movie as a whole is a must-see for Aronofsky fans. Especially ones who really liked The Fountain.
Noah opens March 28. Jennifer Connelly and Anthony Hopkins also star.