'Captain America: The Winter Soldier' Clip: A Wall-Busting Rooftop Chase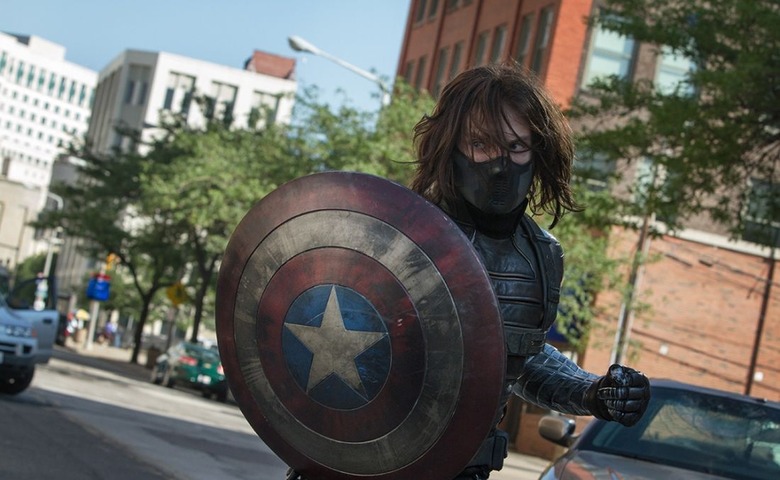 Having seen Captain America: The Winter Soldier, I can confirm the action this time around is much more guttural. The punches, the kicks, the crashes and falls all have a realistic weight to them. You can practically feel the bones crunching in the theater. Case in point: this awesome new Captain America Winter Soldier clip, which features Cap (Chris Evans) chasing the mysterious Winter Soldier (Sebastian Stan) after an assassination attempt. Who or what was shot at? You'll have to wait until the film comes out April 4 for that answer, but below check out the excellent aftermath below.Yahoo premiered the clip, but they're not allowing embedding.
Cap literally running through walls here, using the shield as a battering ram, is a great example of how the Russo brothers have evolved the character since Captain America: The First Avenger and The Avengers. He's no longer just a shield-throwing superhero. He's still that, but he's found new uses for his skills and it makes the fighting much more unpredictable.
Captain America: The Winter Soldier opens April 4 and, in the coming weeks, we'll have much much more on it. A review, interviews with the directors and producer, and surely more clips and insight as audiences finally see how the Marvel Cinematic Universe sets up Avengers: Age of Ultron.
Here's the plot description:
After the cataclysmic events in New York with The Avengers, Marvel's "Captain America: The Winter Soldier" finds Steve Rogers, a.k.a. Captain America, living quietly in Washington, D.C. and trying to adjust to the modern world. But when a S.H.I.E.L.D. colleague comes under attack, Steve becomes embroiled in a web of intrigue that threatens to put the world at risk. Joining forces with the Black Widow, Captain America struggles to expose the ever-widening conspiracy while fighting off professional assassins sent to silence him at every turn. When the full scope of the villainous plot is revealed, Captain America and the Black Widow enlist the help of a new ally, the Falcon. However, they soon find themselves up against an unexpected and formidable enemy—the Winter Soldier.