Early Buzz: 'Noah' By Darren Aronofsky Is Powerful, Ambitious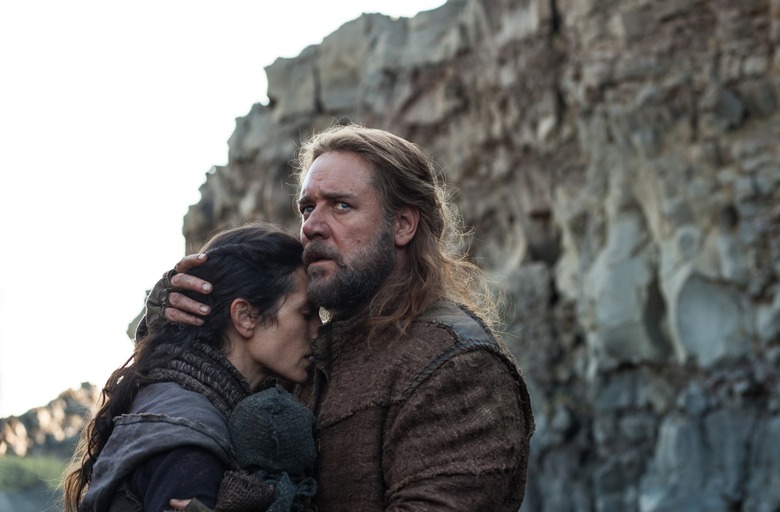 Noah represents a big change of pace for Darren Aronofsky in that it's his first big-budget studio film. But those who worry that he's sold his soul to Paramount Pictures needn't worry. Following some early screenings, the word going around is Aronofsky is as bold and ambitious as ever — for better or for worse.
The closest comparison seems to be Aronfsky's The Fountain. That may be good news for die-hard Aronofsky fans, many of whom consider that movie his best, but it could also be bad news for the studio, as The Fountain tanked horribly at the box office. Hit the jump to find out what people are saying about Noah.
Our own Peter Sciretta agreed, and admitted that Noah was a polarizing watch.
.@DarrenAronofsky's Noah is a much different film than whats being advertised. Biblical epic meets fantasy, with a philosophical core.

— /Film (@slashfilm) March 11, 2014
Noah has a pro-science pro-faith tone, but for the most part, I don't know why religious viewers would have issues with the adaptation.

— /Film (@slashfilm) March 11, 2014
Noah is a divisive film (not from a religious perspective), akin to The Fountain, will have its fans & haters. Im in the former for both.

— /Film (@slashfilm) March 11, 2014
Devin Faraci also picked up on the similarities to The Fountain.
Nathan Adams commented on how different Noah was from the advertising.
#Noah is a complicated film, but strong overall. The studio seems lost, but they at least have a good product to figure out how to sell.

— Nathan Adams (@DietNateAdams) March 11, 2014
Really only the first half of #Noah has been advertised, minus some heavy fantasy elements. The second half is character-based thriller.

— Nathan Adams (@DietNateAdams) March 11, 2014
Opinions will differ, but nobody needs worry Aronofsky has stepped out of his wheelhouse to do studio fare. #Noah

— Nathan Adams (@DietNateAdams) March 11, 2014
Alex Billington was less enamored than some, but singled out the score and the Watchers for special praise.
Noah – Aronofsky's take on biblical story is solid, with some amazing scenes + a focus on character above all. Loved most but not all of it.

— Alex B. (@firstshowing) March 11, 2014
.@iamclintmansell's score for Noah may be my favorite Mansell score (will need album to confirm). It's next iteration of The Fountain score.

— Alex B. (@firstshowing) March 11, 2014
My favorite part of #Noah is The Watchers, these badass rock monsters – which they've barely shown at all even though they're a huge part.

— Alex B. (@firstshowing) March 11, 2014
We Got This Covered had a mixed but mostly positive response.
Despite being a bit uneven and too long, Darren Aronofsky's Noah is still a powerful experience with some stunning scenes #Noah #NoahMovie

— We Got This Covered (@wgtc_site) March 11, 2014
Following earlier screenings, the words "powerful" and "important" were floated around quite a bit.
Look out 4 Darren Aronofsky's Noah.Shows how an artist can re-imagine a Bible story in epic & human terms. It's a provocation. No preaching

— Peter Travers (@petertravers) March 5, 2014
Saw "Noah" by Darren Aronofsky.
Powerful, artistic interpretation of the biblical text. A profound wrestling with depravity & redemption.

— Jon Tyson (@JonTyson) March 7, 2014
Just pre-screened "Noah" movie. This film is worthy of our attention for our deeper questions of faith; a powerful, edifying film.

— Makoto Fujimura (@iamfujimura) March 7, 2014
Just saw final cut of @NoahMovie in NYC. Well done @DarrenAronofsky & team. Powerful. Emotional. Releases March 28th. Go see it!! #noahmovie

— Brad Lomenick (@bradlomenick) March 7, 2014
But not all of the responses were positive. THR writes that the movie "drew a somewhat muted response" at the screening in Mexico. While one American critic they spoke to said they'd give the movie a positive review, another felt the movie was "a bit long and dragged in spots." Several audience members they spoke to concurred, complaining that the movie was "slow."
Mario P. Szekely, a critic for Mexico City's W Radio, told the trade he was skeptical Mexican audiences would connect with the movie. "They won't connect emotionally with the main character because it betrays the essence of the biblical character, and the payoff just isn't good enough," he said.
Noah lands in U.S. theaters on March 28.
[Additional sources: The Film Stage]