Jon Favreau Still Wants To Do 'Magic Kingdom'; Could Be After 'Jungle Book'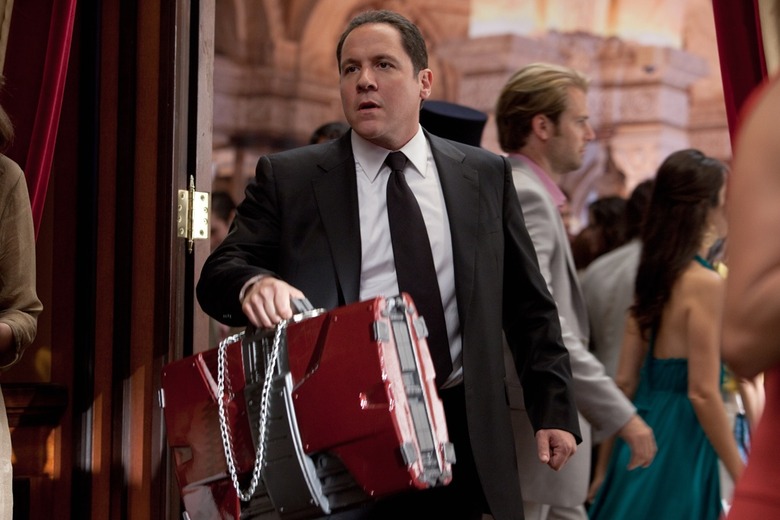 Disney fans everywhere were excited when news broke Jon Favreau was making a film called Magic Kingdom. Described as "Night at the Museum at Disneyland," the film would tell a story where all the characters inside the Happiest Place on Earth come to life at night.
The last update on the film was in mid 2012. Since then, Favreau went off an to make Chef and will follow that up with a live-action version of The Jungle Book. Finally, at SXSW, Favreau offered an update on Magic Kingdom. The writer/director/producer/actor said he thinks he's got a strong story to go along with the concept and it might come to fruition after The Jungle Book is done. He said films like The Lego Movie and The Avengers, which combine dozens of franchise characters like this would, have helped the cause. Read his quotes below.
Favreau spoke to Collider about the film. The full interview is at that link and the Magic Kingdom stuff happens at 5 minutes.
Here's his quote transcribed:
I really want to do Magic Kingdom. Part of what's complicated about it is you're mixing all of the different lands and characters together but between The Avengers and The Lego Movie, there seems to be a way to do it that doesn't confuse the audience. Hopefully I'll get to make that movie with Disney soon. Right now Jungle Book is the thing and hopefully through that partnership it'll lead to getting the other film done because I think Magic Kingdom is a great idea for a film.
Favreau then explained that in a little more detail:
The issue is how do you treat characters in one film that are differentiated [in other films]. So if you're doing a Pirates of the Caribbean movie, how do you differentiate from the pirates in your movie, is that confusing to an audience and does that ruin other franchises that are existing? So I think when the time is right I think I have a strong take that would make that very clear. But again Jungle Book is a priority for them and something they're very excited about and something I really connected with. Hopefully, through that relationship, Magic Kingdom will become the next thing down the line.
It makes sense. Disney doesn't want to taint Pirates of the Caribbean 5, Tomorrowland or a Haunted Mansion movie by portraying those characters in this kind of mash-up. But there is a way to do it and, maybe, it'll be next for Favreau after The Jungle Book. That film opens October 2015.