'The Devil's Knot' Trailer: A New Account Of The West Memphis Three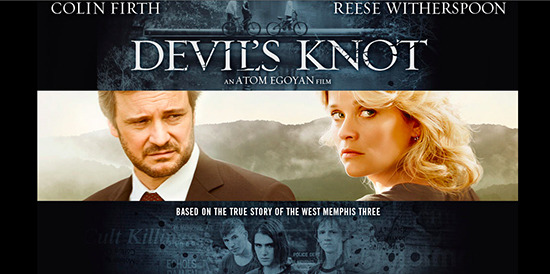 The case of the West Memphis Three has been thoroughly documented in no less than four non-fiction films. But here's The Devil's Knot trailer, which represents the effort of Canadian director Atom Egoyan (Chloe, The Sweet Hereafter) to dramatize the story. Reese Witherspoon and Colin Firth star in this telling, which begins with the perspective of the parents of the children who were killed in Arkansas in 1993. Eventually, however, we see some of the perspective of the three young men who were wrongly accused of committing the crimes. 
The Devil's Knot opens on May 9 with Amy Ryan, Mireille Enos, Stephen Moyer, Alessandro Nivola, Matt Letscher, Michael Gladis, Rex Linn, Dane DeHaan, Bruce Greenwood, Matt Letscher and Michael Gladis. Paul Harris Boardman and Scott Derrickson (The Exorcism of Emily Rose and Beware the Night) scripted. Apple has the trailer.
Based on the true crime book, "Devil's Knot: The True Story of the West Memphis Three" by Mara Leveritt, the film tells the compelling story of three teenagers accused of the brutal 1993 murder of three 8-year old boys in Memphis, Ark. – two of them sentenced to life imprisonment and one to death. The film explores the lives of deeply misunderstood outsiders, their families and communities, and their darkest fantasies. The conviction of the West Memphis Three – Damien Echols, Jesse Misskelley, Jr., and Jason Baldwin – riled the American justice system, shocked a tightly knit religious town and outraged the nation.