'True Detective' Season 2 Plot About "The Secret Occult History Of The US Transportation System"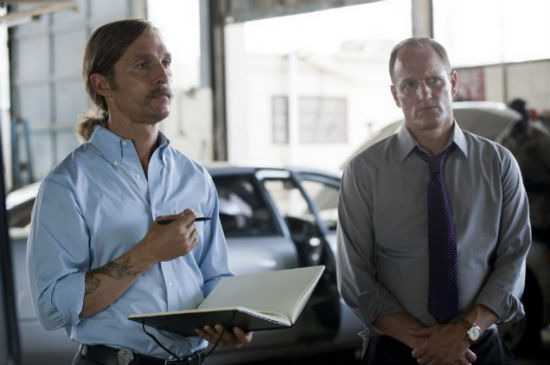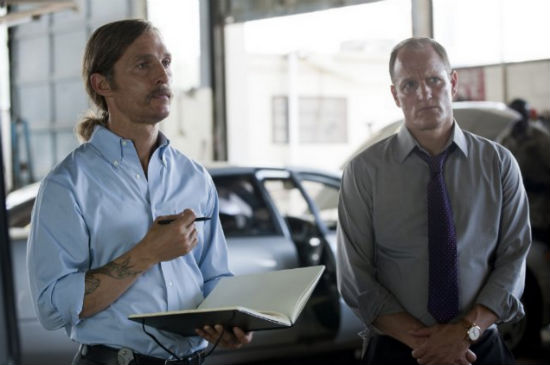 Nic Pizzolato has revealed a kernel of the central plot of True Detective season 2. The show's writer and creator is doing interviews about Sunday's HBO Go-crashing, season one finale. In one he mentioned the second season is still in the early planning stages, but it'll be about "hard women, bad men and the secret occult history of the United States transportation system." Very interesting.
Below, read some more about that as well as Pizzolato's thoughts on the season one finale – fan expectations, conspiracies and a comic book reference.
Pizzolato did an extensive interview with HitFix, which is three pages long and super fascinating. In addition to the season two tease mentioned above, he talked at length about the finale.
MAJOR SPOILERS for True Detective Season 1 follow.
These are just a few choice quotes, but Pizzolato discussed he had the show's ending in mind when conceiving it:
This is a story that began with its ending in mind, that Cohle would be articulating, without sentimentality or illusion, an actual kind of optimism. That line, you ask me, the light's winning, that was one of the key pieces of dialogue that existed at the very beginning of the series' conception. For me as a storyteller, I want to follow the characters and the story through what they organically demand. And it would have been the easiest thing in the world to kill one or both of these guys. I even had an idea where something more mysterious happened to them, where they vanished into the unknown and Gilbough and Papania had to clean up the mess and nobody knows what happens to them. Or it could have gone full blown supernatural. But I think both of those things would have been easy, and they would have denied the sort of realist questions the show had been asking all along.
Back to Pizzolato's quotes in a second, but Vulture pointed out that ending dialogue ("Once, there was only dark. You ask me, the light's winning.") seems very closely influenced by Alan Moore's Top 10 #8 from 2000. Here's the final panel: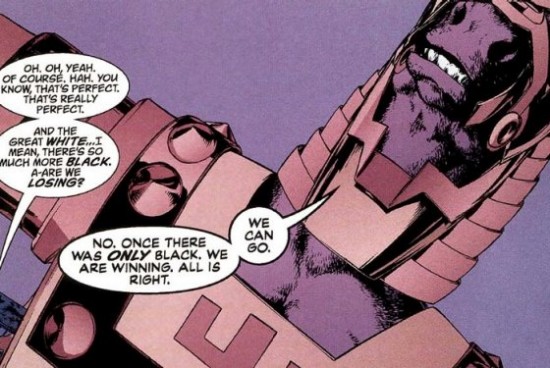 Read more about that connection at Vulture. Now, back to Pizzolato:
On the way the "Yellow King" murder mystery was essential:
I don't think it was an empty vehicle, is what I guess I would say there. I don't think it could have been just anything that these guys were working on. I think it's relevant that the person they're chasing is both the victim of an historical evil and the perpetrator of an historical evil. The killer in that way is a physical articulation of cultural aspects that have sat behind the scenes, even informing that polluted landscape that provides so much of the background. If you go from the idea of something being in its natural state and then being perverted, and that this particular villain, for lack of a better word, is a killer of women and children, and his methodology is intimately tied to a mythology of belief .
On how there was a large conspiracy present, but it's just not as essential:
There's the men in the video, and there's about 10 of them. Then you can begin to look at that as if that cult began to disintegrate shortly afterwards, and then there were always revenants existing on a local level. If you track the name Childress, you realize Sheriff Childress was the sheriff when Marie Fontenot disappeared, an Officer Childress was attending to Guy Francis in 2002 when he committed suicide. The conspiracies that I've researched and encountered, they seem to happen very ad hoc: they become conspiracies when it's necessary to have  a conspiracy. I think it would have rang false to have Hart and Cohle suddenly clean up 50 years of the culture history that led to Errol Childress, or to get all the men in that video. It's important to me, I think, that Cohle says, "We didn't get em all, Marty," and Marty says, "We ain't going to. This isn't that kind of world." This isn't the kind of world where you mop up everything. We discharged our duty, but of course there are levels and wheels and historical contexts to what happened that we'll never be able to touch. 
And then, of course, the True Detective season 2 plot tease:
Okay. This is really early, but I'll tell you (it's about) hard women, bad men and the secret occult history of the United States transportation system.
If the women are "hard" and men are "bad," is that a confirmation the two leads this time around will, indeed, be woman as previously suggested?
There's much more at HitFix but, below, speculate about the True Detective season 2 plot and season one finale.