Jon Favreau's 'Chef': First Look And Early Buzz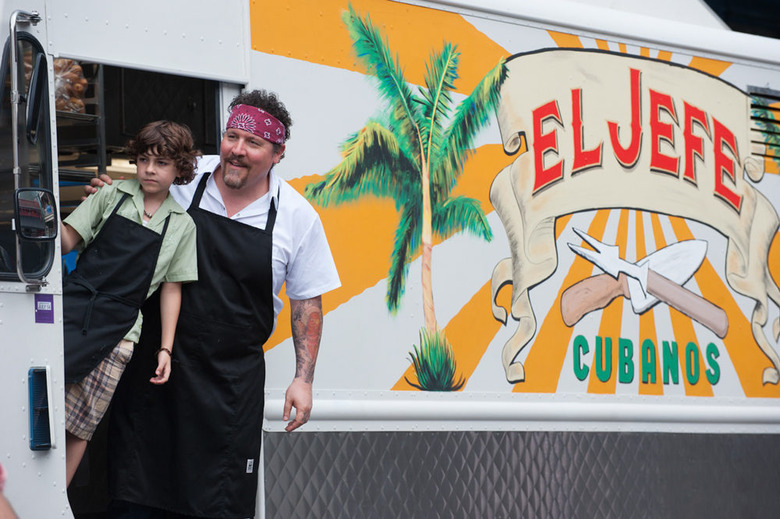 When Jon Favreau released the first Iron Man, he was still seen as an exciting young director on his way up despite having credits like Made, Elf, and Zathura. Then came Iron Man 2 and Cowboys & Aliens, and his name started to elicit more eye-rolls than smiles. But at SXSW this year, he unveiled what seems to be a return to form: a crowd-pleasing indie called Chef.
In it, Favreau plays a once-acclaimed chef rebuilding his life after a heavily YouTubed incident sends his career on the skids. He's also dealing with a gorgeous ex-wife (Sofia Vergara) and an adorable moppet of a son (Emjay Anthony). So how does this latest effort stack up against some of Favreau's critically scorned tentpole output? Get the word from SXSW and check out some first-look photos after the jump.
For an even better look at the movie, you can check out a 47-second clip on Buzzfeed.
As for the reviews, they've been all across the board. Most seem to fall somewhere in the "good, not great" range. But it's also received at least one D- and at least one A-. Here are some critical responses, roughly in order from harshest to kindest. Letter grades and/or numerical ratings are included next to the outlet name where applicable.
It's not as earth-shatteringly awful as last year's SXSW opener "The Incredible Burt Wonderstone," but it's damn close. To borrow one of the many lame metaphors it employs, "Chef" feels horribly undercooked. But if you want to see a self indulgent, hubris-driven car crash where the filmmaker uses his latest narrative as a thinly-veiled defense of his past career transgression, this is the movie for you.
All of the father and son stuff is where Chef really leaves its mark. Even though he's not as dynamic an actor as he is a writer and director, Favreau makes Chef Carl a believably bad, yet misunderstood guy. His chemistry with young Emjay Anthony is great, making the story of an estranged father and son reconnecting over a Griddler the part that makes us want to keep watching. Other than all of the delicious cooking money shots, that is.
Favreau follows the proceedings endured by his everyman with an agreeable flow, so that even when the movie starts to drag during later scenes involving Carl and his young son bonding over their new food truck production, it never feels overtly tedious. [...] Nevertheless, as the movie hums along, it's hard to shake the perception that Favreau simply called up a bunch of famous friends to hang some food porn around a flimsy plot. By its later scenes, "Chef" only finds respite from its bland qualities through the scrumptious-looking dishes constantly on display. As self-indulgent vanity projects go, this one's pretty innocuous, if only because it's always easy on the eyes.
The final destination is entirely predictable — right down to the deus ex machina reappearance of an erstwhile antagonist — but the trip itself is never less than pleasant, and often extremely funny. It helps a lot that Favreau develops such engaging chemistry with John Leguizamo as a former restaurant co-worker who insists on being part of Casper's new venture, and young Anthony, who gets maximum mileage from the recurring gags involving Percy introducing his dad to Twitter, Vine, Facebook and other unfamiliar social media. It also helps that "Chef" offers more than a soupcon of local color during extended stops in New Orleans and Austin, where Casper and his two assistants attract customers by offering their own twists on food favored by locals.
THR:
The growing bond between this man and his son is as enjoyable as it is predictable, with Percy diligently learning how to work in a kitchen and Dad imparting lessons about the pride to be taken in perfection, even of a humble sandwich. Laughs are frequent enough to dilute any sentimentality, though (as in Amy Sedaris's brief appearance, which proves she was born to play an over-tanned power publicist), and a soundtrack full of Latin beats and New Orleans grooves (with a Lone Star blues break starring Gary Clark Jr.) keep things moving along nicely. If the final scenes dispel with any lingering bad vibes in a much too-tidy way, viewers drunk on food-porn shots of melting cheese and frying beignets are unlikely to complain.
But ignore for a moment the notion that Chef is largely autobiographical – as indeed most fictional stories are, to one extent or another – and focus on the lovely truth that Chef is also a darling motion picture in a vacuum. Favreau captures the riches-to-rags-to-riches formula neatly and without the sort of distracting judgment that usually comes part and parcel.
Your culinary journey will conclude with a richness and sweetness that doesn't feel the need to complicate matters by giving in to the typical (and predictable) trappings of your average "movie" story, with its ups and downs and downs and ups. Favreau's Chef is a personal, feel-good palate cleanser from a writer-director who's pretty obviously searching for the fresh start his main character so desperately needs. It's intimate and refreshing, and pretty easy to overlook its few faults because its music is invigorating, its spirit is infectious and its many food montages will send your appetite into a mad frenzy.
It's very fair to point a finger at Chef for being an overdone attempt at sending a personal message and there are very few surprises in the narrative, but what's wrong with that when the film works so well? Simply put, Chef is a pleasure. The jokes are on point, the material is interesting, the characters are all highly likable and, to top it all off, you truly walk out with the determination to believe in yourself and fight for your passion.
Chef opens May 9.
Chef Carl Casper (Jon Favreau) suddenly quits his job at a prominent Los Angeles restaurant after refusing to compromise his creative integrity for its controlling owner (Dustin Hoffman), he is left to figure out what's next. Finding himself in Miami, he teams up with his ex-wife (Sofia Vergara), his friend (John Leguizamo) and his son to launch a food truck. Taking to the road, Chef Carl goes back to his roots to reignite his passion for the kitchen — and zest for life and love.