'Tracks' Trailer: Starring Mia Wasikowska And Adam Driver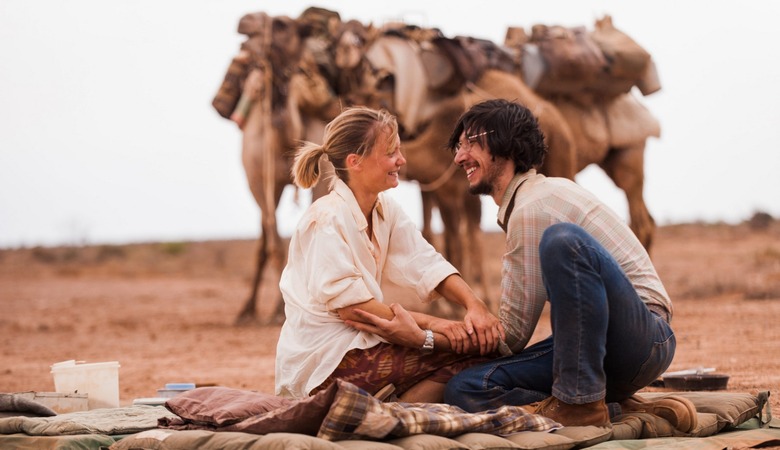 Crossing the Australian outback on foot with nothing but a trusty dog and four temperamental camels would prove an impossible challenge for most people. But when one has already braved the wilds of Wonderland, maybe a harsh desert trek doesn't seem so tough.
Former Disney heroine Mia Wasikowska leads John Curran's Tracks as real-life traveller Robyn Davidson, who set out on her cross-country journey in 1977. Her journey was documented by National Geographic photographer Rick Smolan, who's played here by possible future Star Wars villain Adam Driver. Watch the new Tracks trailer after the jump.
Tracks has been in the works almost since Davidson first took her journey. There have been several iterations in development since the early '80s, most notably in the '90s with Julia Roberts in the lead role.
The obvious question here is why anyone would ever want to put herself through such a thing. Davidson (as played by Wasikowska) gives an answer that seems both totally reasonable and entirely insane: "Why not?" And watching the trailer, it almost becomes possible to understand. There are scenes of remarkable, and unique, beauty — even if the inspirational beats feel groaningly, thuddingly familiar.
The Weinstein Co. will release Tracks sometime this year.
"Tracks" is based on the inspirational true story of intrepid traveller and writer Robyn Davidson's solo trek from Alice Springs through 2700km of sprawling Australian desert to the Indian Ocean, accompanied only by her loyal dog and four unpredictable camels. This epic and remarkable journey into one of the world's last great wildernesses, which was captured by charismatic National Geographic photographer Rick Smolan, taught Robyn to do the impossible, to appreciate the joy of true solitude and that sometimes we have to detach from the world to feel connected to it.