Trivia: French Visionary Alain Resnais Planned Two Films With Stan Lee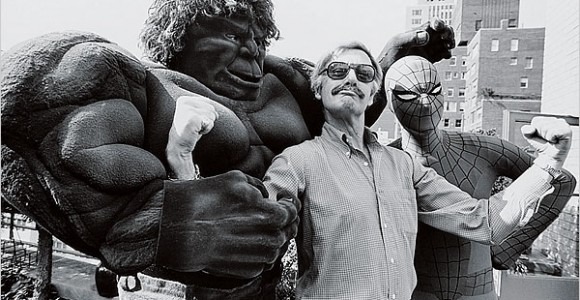 Want a real-life story worthy of Marvel Comics' long-running series What If? The current wave of Marvel movies could have happened a lot earlier, or much differently, if plans begun in the early '70s had come to fruition.
The late French director Alain Resnais, who died just a week ago, was responsible for some of the most powerful films in French cinema. The concentration camp documentary Night and Fog led to Hiroshima Mon Amour, which developed a narrative take on memory and relationships that deepened in Last Year at Marienbad and Je t'aime Je t'aime. (That's just the beginning of his work.) Resnais is known as a science fiction fan, and genre and experimental fiction crept into his films in significant ways.
Resnais was also a lover of comic books. He claims he learned English by reading Marvel Comics, and he once wanted to make a Tintin film, decades before Spielberg and Jackson got around to it. In 1972, Resnais connected with Stan Lee of Marvel, and the two ultimately worked on a pair of scripts together. Neither was ever made, but just imagine what might have come to pass, had they gone before cameras.
None of this is exactly news — google "Resnais Stan Lee" and you'll come up with a good amount of info. Arriving at that association, however, might take a leap. Who would think to check what Resnais and Lee might have done together? I got there after seeing Je t'aime Je t'aime again. Afterward, reading more about it, a passing mention of the Stan Lee connection in a recent Film Comment piece reminded me of older comments I'd meant to follow up on.
One important thing: neither of these films would have been "comic book movies," or were meant to feature existing characters. They were original stories, in fact meant by Lee to distance himself from comics. But the comics of the late '60s and early '70s featured genre-bending elements that captured the imagination of Resnais, who saw in them inspiration for his own cinema.
The first film, as reported by The Harvard Crimson in 1972, was to be a Bronx-set story called The Inmates. It would have been Resnais' first movie since Je t'aime Je t'aime in 1968, and his first English-language movie. Resnais told the paper,
I had read everything [Lee] had written for the last ten years. I was totally hooked, and I was surprised to find that the writer was such a lovable person. He told me that he has written more than 7000 stories, and would like to try something else.
That lead to a treatment, which Lee described to the Marvel in-house fan magazine F.O.O.M.! (via CBR):
...it has to do with the whole human race, why we're on Earth, and what our relationship is with the rest of the Universe. It poses a theory which I hope is a very original, unusual one. But it's done in human terms, like a regular story; it's not a far-out science-fiction thing. It's very philosophical – but there is a lot of science fiction. I think it's a great story. I've written the treatment for it, and I suggested that Alain get another screenwriter to do the screenplay based on my treatment. It'd still be our story: I'd still be involved in it; yet, this way, we wouldn't have to wait. But he keeps saying he wants it to be my script completely – he wants it to be my language.
Lee's description of the genre elements sound like the use of sci-fi in Je t'aime Je t'aime, which is very matter-of-fact, but quite effective. The Inmates never happened, and in fact was never fully scripted. When asked about it in the decades following, Lee has occasionally said he would still try to make the film.
Another was to be called The Monster Maker, and it might have had a much more direct connection to Lee's own life. The script (again via CBR) is centered on a Roger Corman-type producer of schlocky horror films who attempts to make a bigger, more legitimate and "important" statement about pollution. The parallels between the film's protagonist and Lee, himself a creator who was feeling stuck in genre, are impossible to ignore.
Resnais had Lee write in a lot of big elements that turned out to be far too much for the potential budget. He also insisted Lee not change the script. Consequently, it was never made either. Later, in 1998, Lee would say re-launching that effort "would require so many changes that I just don't have the time. Maybe someday when I retire, which will probably be never."
Sadly this collaboration never resulted in any tangible film or graphic novel. Yet the Marvel founder, according to 'Stan Lee and the Rise and Fall of the American Comic Book' by Raphael and Spurgeon, also tried to persuade Resnais to make a Spider-Man movie. This was in 1980, after Superman: The Movie turned into a huge hit. That Spidey effort, obviously, didn't go anywhere either. Lee wanted Henry Winkler to star!
Imagine the later career path Lee might have taken if a Resnais film bearing his name had arrived in the '70s. And while Resnais continued to work right up until his death, developing his own filmmaking and staking out a unique career territory, what might have been different if he had dabbled with Lee, or made Spider-Man? The alterations that could have happened to his later career might not be ones we want to see, but considering them is a great afternoon diversion.