'The Signal' Release Date: Sundance Sci-Fi Thriller Will Be Unleashed In Summer 2014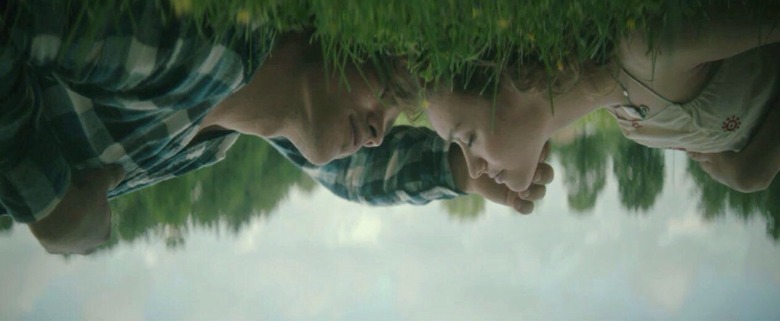 Focus Features has announced a release date for their Sundance film: The Signal's release date is set for Summer 2014. This shows tremendous confidence in  William Eubank's sci-fi thriller, which was one of my favorite films from this year's Sundance Film Festival.
The Signal Release Date
The film will get a roll-out release, hitting some cities on June 13th and expanding to more cities in the following weeks (June 20th and again on June 27th). No details on exactly which cities will be included in the three roll-out dates, so check our local listings.
My Thoughts On The Film
In my review, I described the film as a mystery box:
The Signal is the kind of science fiction movie that I love — intense, mysterious, original and extremely ambitious. What is The Signal? It's a puzzle that keeps you guessing and working to figure it out. ... The Signal is a high concept film with big production value and an intimate character story, completed on relatively low budget — under $4 million. The low-fi FX work not only looks great, but feels unique. ... The film also features beautiful, incredibly artful cinematography, and compositions that you wouldn't expect from a genre film of this budget level. Its no surprise that director William Eubank  is a former cinematographer.
I think this film will divide audiences. Those of you, like me, who enjoyed the mysteries of Lost and dig the old Twilight Zone episodes will love it, while other people might be turned off by the Russian nesting doll set of mystery boxes inside mystery boxes. The film answers many of the mysteries, but still leaves a few questions unanswered and ends in a place which could set up a franchise, if the movie is popular enough to warrant more.
Official Plot Information
Three college students on a road trip across the Southwest experience a detour; the tracking of a computer genius who has already hacked into MIT and exposed security faults. The trio find themselves drawn to an eerily isolated area when suddenly, everything goes dark. When one of the students, Nic, regains consciousness, he is in a waking nightmare... The Signal stars Brenton Thwaites, Olivia Cooke, Beau Knapp and Laurence Fishburne and is directed by William Eubank.
Mark your calendars for The Signal, hitting theaters in June 2014.