Picturehouse Picks Up Adam Wingard's 'The Guest'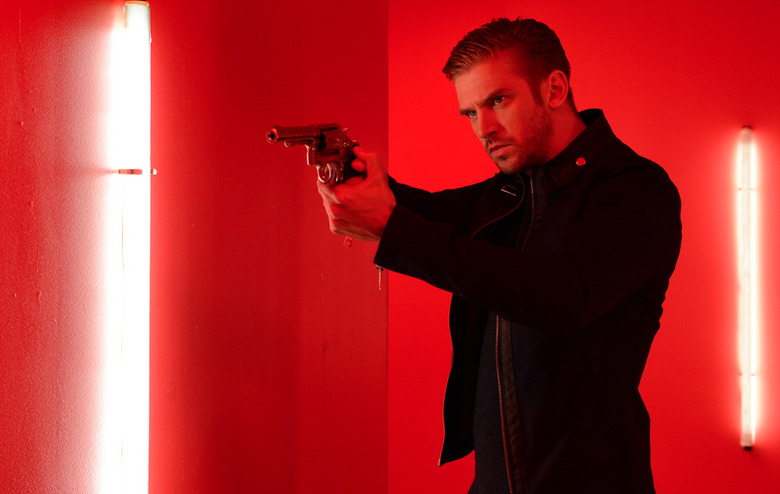 The genre-bending '80s-influenced action film The Guest will hit theaters this fall. Picturehouse has picked up rights to distribute the Sundance hit, directed by Adam Wingard, written by Simon Barrett and starring Downton Abbey's Dan Stevens. You can read our full review from Sundance here and the full press release below.Here's the full press release:
Picturehouse has acquired all US rights to the Sundance hit THE GUEST, from the visionary team behind YOU'RE NEXT: director Adam Wingard, writer Simon Barrett and Snoot Entertainment's Keith Calder and Jessica Calder. The acquisition was announced today by Bob Berney, CEO of Picturehouse, who is planning a fall release for the film.THE GUEST stars Dan Stevens of "Downton Abbey" fame, Maika Monroe, (AT ANY PRICE, LABOR DAY), Brendan Meyer, Sheila Kelley, Leland Orser, and Lance Reddick ("American Horror Story" and "Intelligence").The film tells the story of a young soldier who arrives on the doorstep of the Peterson family, claiming to be a good friend of their beloved son who died in action. The Petersons welcome David into their home and into their lives, but when people start mysteriously dying in town, mayhem ensues as their teenage daughter Anna starts wondering if David is responsible. "THE GUEST is hilariously fun and innovative, and its recent premiere at Sundance blew everyone away," says Berney.  "We pride ourselves on collaborating with filmmakers, and Keith, Jess, Adam and Simon are a force of nature.""We're so excited to work with Bob and Jeanne at Picturehouse after long admiring the fantastic job they've done releasing some of our favorite movies of all time," said producers Keith and Jessica Calder.The deal was negotiated by Bob Berney on behalf of Picturehouse, and by CAA and Erik Hyman of Loeb & Loeb on behalf of the filmmakers.The Guest is playing SXSW before it's release. Check it out if you are in Austin for the fest.