'Muppets Most Wanted' Posters Parody 'Skyfall', 'Face/Off'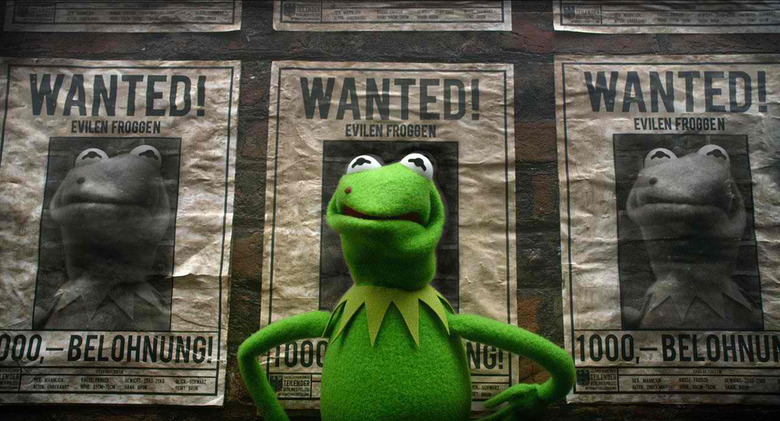 The Muppets have never been ones to resist a good pop culture parody, and the newest Muppets Most Wanted posters take on a whole slew of beloved films.
Kermit does his best James Bond for amphibian versions of Skyfall and The World Is Not Enough, while his devious doppelganger Constantine gets in on the action with a Tinker Tailor Soldier Spy send-up. The two then come together in a Muppets-ized poster for — what else? – Face/Off.
Meanwhile, the gang is also capitalizing on the John Travolta's "Adele Dazeem" gaffe with a brief new promo. See all the posters and watch the video after the jump.
[via Bleeding Cool]
Of the four, Frogfall has to be my favorite. Kermit fills out a fancy suit almost as well as the real James Bond, Daniel Craig, does. Who knew? The title The Pig Is Not Enough doesn't seem to bode well for their impending nuptials, though.
Here's the Adele Dazeem spot, which is bursting with the Muppets' usual goofy energy.
Directed by James Bobin, Muppets Most Wanted arrives March 21. Ricky Gervais, Tina Fey, and Ty Burrell are the non-Muppet leads.
Disney's "Muppets Most Wanted" takes the entire Muppets gang on a global tour, selling out grand theaters in some of Europe's most exciting destinations, including Berlin, Madrid, Dublin and London. But mayhem follows the Muppets overseas, as they find themselves unwittingly entangled in an international crime caper headed by Constantine—the World's Number One Criminal and a dead ringer for Kermit the Frog—and his dastardly sidekick Dominic, aka Number Two, portrayed by Ricky Gervais. The film stars Tina Fey as Nadya, a feisty prison guard, and Ty Burrell as Interpol agent Jean Pierre Napoleon.