'Frank' Trailer: A Giant Fake Head, Michael Fassbender, And Music As Art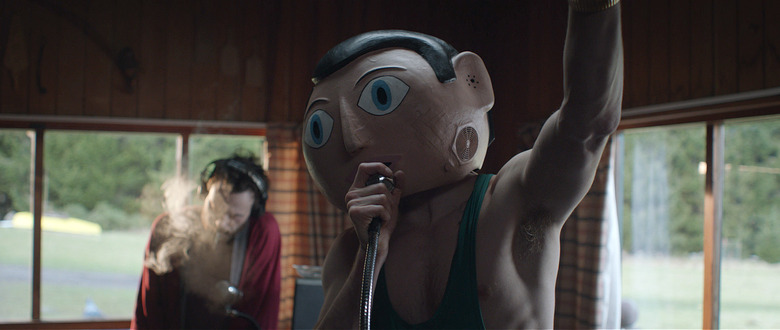 Frank is a really great and strange movie, and you should watch the trailer right now.
Actually, let me rephrase: Frank is a great movie about a strange guy, but the movie itself isn't all that weird. Sure, it features Michael Fassbender as the title character, a poet/musician who wears a giant fake head. Like, always wears a giant fake head. But the entry point to the story is a wannabe songwriter played by Domhnall Gleeson, who guides us into Frank's hyper-artistic world. Through him we see both the appeal and deep oddity of Frank's life, and the movie deploys some unique comedy along the way.
This is one of the best films about outsider art I've seen, and it is also simply funny and well-made. While Frank's music is not for everyone, the film is very accessible. Fassbender is terrific, Gleeson strikes the ideal note between sympathetic and simply pathetic, and the supporting cast, including Maggie Gyllenhaal and Scoot McNairy, are equally good. There's also a scene in the film that captures the ineffable magic of making music with people whose sensibilities resonate with your own. At its best, Frank portrays elements of artistic creation that are very difficult to fabricate. That's reason enough to recommend it, as far as I'm concerned.
Frank opens in the UK on May 9, with US release planned for later in the year. Trailer via The Film Stage.
Acclaimed Irish director Lenny Abrahamson follows up his award-winning films Adam & Paul, Garage and What Richard Did with an offbeat comedy about a young wannabe musician, Jon (Domhnall Gleeson), who finds himself out of his depth when he joins an avant-garde pop band led by the mysterious and enigmatic Frank (Michael Fassbender), a musical genius who hides himself inside a large fake head, and his terrifying bandmate Clara (Maggie Gyllenhaal).
Written by Jon Ronson (The Men Who Stare At Goats) and Peter Straughan (Tinker Tailor Soldier Spy, The Men Who Stare At Goats), FRANK is based on the memoir by Jon Ronson. It is a fictional story loosely inspired by Frank Sidebottom, the persona of cult musician and comedy legend Chris Sievey, as well as other outsider musicians like Daniel Johnston and Captain Beefheart.