'Captain America 2' Ending Will Have Big Ramifications For The MCU And 'Avengers 2'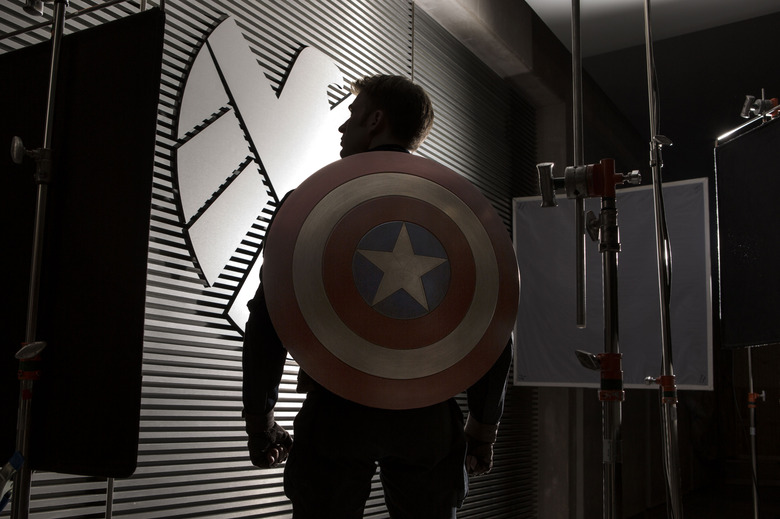 One of the biggest secrets we learned while on the set of Captain America: The Winter Soldier: is that the Captain America sequel ending will have big ramifications for the Marvel Cinematic Universe that will lead directly into Avengers: Age of Ultron. Find out what we learned after the jump.
First up, Captain America series co-screenwriter Stephen McFeely dropped this little bit during our sit down interview:
We are really excited about this, because it really is its own thing and we leave the world in a certain place, so that Avengers 2 has to acknowledge that and move on, but it's not like any arrows are being taken out of our quiver.
His screenwriting partner Christopher Markus was quick to jump in and say "It's not a cliff-hanger." Later in the afternoon, Marvel Studios president of production Kevin Feige let the following slip:
It is smack dab between Avengers and Avengers 2. It takes place after both Thor and Iron Man. So it's sort of the continuity of the release of the film is the continuity of the film as well. Which was sort of the case with the first phase one films but it was a little trickier. But this very much, you know, the ramifications at the end of this film go directly into Avengers 2. Much more so than the other films.
But it gets a bit juicier when we were talking with Captain America 2 directors Anthony and Joe Russo. Here is the transcript from Joe Russo explaining how the screenplay had changed since they signed on:
The initial story arc is there. We did a lot of work just putting it in a voice. We edged it up a lot more and came up with a lot of set pieces. It's based on our love of 70s set pieces, which have a certain length to them, there's a journey that you go on when you watch them. They're story-based. There's something at stake for four-and-a-half minutes that you're going, "Holy shit! What's gonna happen here?" We just did a reworking in that regard, but they had a really excellent construct to the script that was really sound, where it was going, a very big idea that they're exploring in the third act of this movie. It's a sort of, you know, monumental idea for the MCU.
A monumental idea for the Marvel Cinematic universe? So it's something that's going to impact everything? Joe Russo responded:
Yes, it impacts everything. That has always been there. So it was easier to do the script work because it had such a clear spine to it, such a strong spine. They were already playing with the themes we wanted to push into more. I relate to those themes of Cap, the loneliness that he feels and the sense of isolation that he has, that makes him an extremely endearing character, so we wanted to push those as far as we could.
So there you have it. We don't know how Winter Soldier is going to end, but it sounds like it will have large ramifications — If you care about the Marvel Cinematic Universe and/or Avengers: Age of Ultron, sounds like this movie is not something you'll want to miss. What do you think will happen? Please leave your speculation in the comments below.