'Maleficent' Images Feature Angelina Jolie And Her Child/Co-Star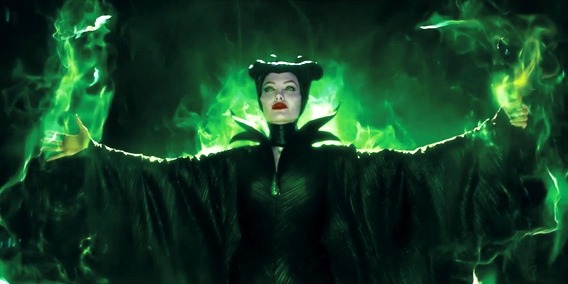 The live-action fairy tale craze continues this summer with Maleficent, an origin tale of sorts for one of Disney's most famous villains. And although star Angelina Jolie laughs that it's "really funny when people say you'd be obvious for a great villain," these new Maleficent images prove that she is indeed the perfect choice to play the Mistress of All Evil.
Also featured in this latest batch is Aurora a.k.a. Sleeping Beauty, in two different forms: as a teenager played by Elle Fanning, and as a small child played by Jolie's daughter Vivienne Jolie-Pitt. Check out all the photos plus a Maleficent EW cover after the jump.
EW premiered the badass cover and the still of Jolie and her daughter.
And here are some other stills that have been making the rounds, via The Playlist.
In her EW interview, Jolie talks about humanizing the classic Disney villainess. "The exercise wasn't how can we have fun with a villain?" she says. "It was: What turns people evil and vile and aggressive and cruel? What could have possibly happened to her?"
But at first, Jolie explains, even her own children were intimidated by the character. Vivienne was cast as Aurora because she was the only one of Jolie's kids who wasn't.
We think it's fun for our kids to have cameos and join us on set, but not to be actors. That's not our goal for Brad and I at all. But the other 3- and 4-year-old [performers] wouldn't come near me. It had to be a child that liked me and wasn't afraid of my horns and my eyes and my claws. So it had to be Viv.
Maleficent opens May 30.
"Maleficent" explores the untold story of Disney's most iconic villain from the classic "Sleeping Beauty" and the elements of her betrayal that ultimately turn her pure heart to stone. Driven by revenge and a fierce desire to protect the moors over which she presides, Maleficent cruelly places an irrevocable curse upon the human king's newborn infant Aurora. As the child grows, Aurora is caught in the middle of the seething conflict between the forest kingdom she has grown to love and the human kingdom that holds her legacy. Maleficent realizes that Aurora may hold the key to peace in the land and is forced to take drastic actions that will change both worlds forever.