Steven Spielberg Considering 'West Side Story' Remake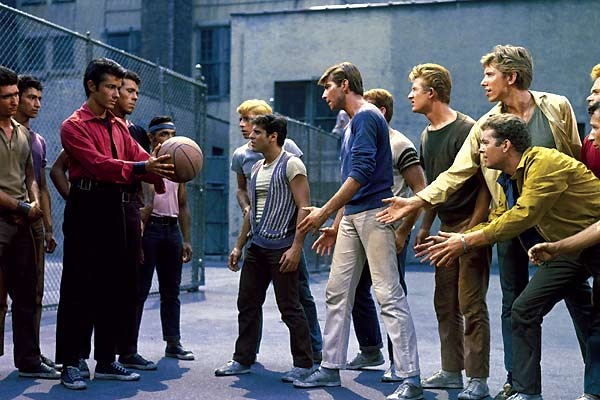 A West Side Story remake? It's possible and it might be made by Steven Spielberg. The legendary director has yet to settle on his next project, and while there are several possibilities, he's just come up with a new one. Spielberg has reportedly expressed interest in remaking the Best Picture-winning 1961 musical, so 20th Century Fox has made those rights available to him if he wants to take up the task.
That process of making rights available is as far as it's gone, though, according to Deadline, which broke the story. "No writer has been set yet and Spielberg hasn't done anything more than register his interest," they say.
West Side Story, directed by Robert Wise and Jerome Robbins, was released in 1961 and won 10 Oscars in 1962, including Best Picture. An urban retelling of William Shakespeare's Romeo and Juliet, the show debuted on Broadway in 1957 featuring music and lyrics by legends Leonard Bernstein and Stephen Sondheim.
Remove all those accolades and it still begs the question, what does Steven Spielberg see in a West Side Story remake? It's not a question these initial reports answer. All we know is Spielberg's interest made Fox open up the rights to their trademarked title. If this does happen, that's a small, but important first step.
Of course, West Side Story's themes of love, loss, friendship and trust are timeless, as are classic songs such as "The Jet Song," "Tonight," "Somewhere," "Maria" and "I Feel Pretty," to name just a few. These songs, and the film in general, have become an integral part of not only popular culture, but culture itself. A recent Broadway revival of the material proved fans will turn out to see it again. If Steven Spielberg thinks he can bring a fresh, or fun, take on this material? I say go for it. Then again, I'll be just as happy if this doesn't happen. West Side Story is one of my favorite movies ever.
We'll keep an eye on this project as things move ahead but, as it stands now, what do you think about Steven Spielberg potentially doing a West Side Story remake?