'Captain America: The Winter Soldier' TV Spot: The Price Of Freedom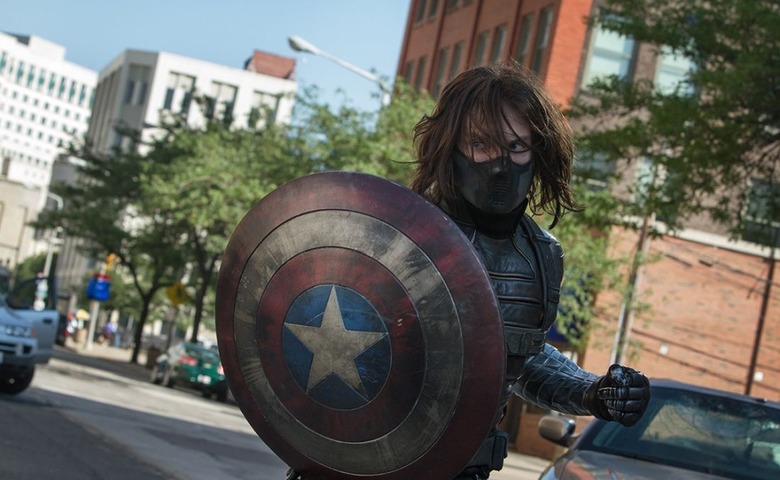 With exactly one month to go until the release date, Marvel has unveiled a new Captain America: The Winter Soldier TV spot that's chock full of fresh footage. And while it's not like the earlier ads were stingy with the action, this 60-second promo may be the most adrenaline-pumping one yet.
The focus this time is on the Winter Soldier of the title (Sebastian Stan), specifically the amount of death and destruction he's rained down on the world. Falcon (Anthony Mackie) gets a good chunk of screentime as well. Watch the video after the jump.
Marvel's marketing team has done a pretty good job of revealing just enough (that one huge potential spoiler notwithstanding). The ads for Captain America: The Winter Soldier consistently dish out big, buzzworthy moments, but they aren't so revealing that we feel like we've seen the whole movie already.
This TV spot makes it clear that the Winter Soldier is a formidable foe capable of great evil, but what makes him really intriguing is his backstory. The Marvel Cinematic Universe has done a fantastic job of creating memorable heroes. Aside from Loki and possibly the Mandarin, though, its villains have been a pretty forgettable lot. Here's hoping the Winter Soldier can break that streak.
Captain America: The Winter Soldier opens April 4. Chris Evans returns as Cap, and Scarlett Johansson, Robert Redford, and Samuel L. Jackson also star. Anthony and Joe Russo direct.
After the cataclysmic events in New York with The Avengers, Marvel's "Captain America: The Winter Soldier" finds Steve Rogers, aka Captain America, living quietly in Washington, D.C. and trying to adjust to the modern world. But when a S.H.I.E.L.D. colleague comes under attack, Steve becomes embroiled in a web of intrigue that threatens to put the world at risk. Joining forces with the Black Widow, Captain America struggles to expose the ever-widening conspiracy while fighting off professional assassins sent to silence him at every turn. When the full scope of the villainous plot is revealed, Captain America and the Black Widow enlist the help of a new ally, the Falcon. However, they soon find themselves up against an unexpected and formidable enemy—the Winter Soldier.