How Will Scarlett Johansson's Pregnancy Affect 'Avengers 2'?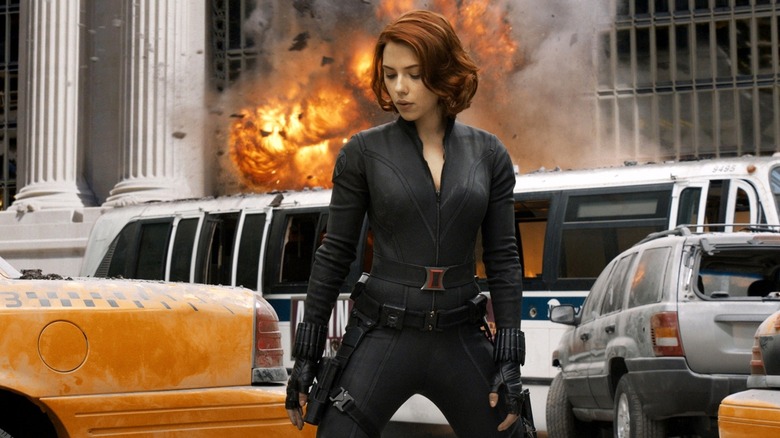 The Marvel Cinematic Universe is a finely tuned machine. Projects and story arcs are mapped out years in advance, and casting choices are made to last. Even so, real life has a way of mucking things up sometimes, and the latest wrench thrown into Marvel's Avengers: Age of Ultron plans may be Scarlett Johansson's pregnancy.
It was revealed yesterday that the 29-year-old is expecting her first child with fiancé Romain Dauriac. And while we wish her and her family all the best, we can't help wondering how this might affect Black Widow's future with the Marvel Cinematic Universe. Now it looks like we have our answer. Hit the jump to learn all about Marvel's plans.
So the plan for now, according to the publication, is to rearrange the shooting schedule around Johansson's condition. "They're going to fast-track her scenes," said a source. Marvel Studios has not officially commented.
Johansson is about to embark on the promotional tour for Captain America: The Winter Soldier, but will be due on set afterward to begin shooting Avengers: Age of Ultron. Like, immediately afterward — the word right now is that filming will begin April 5, the day after Captain America: The Winter Soldier opens.
There's a good chance she'll be showing already by that point, and some of the strategies that filmmakers use to deal with pregnancy will be off the table. It's unlikely that Johansson's baby bump will be written into the storyline, for example, and the old "obscure the bump with large objects" trick will only go so far in an action-oriented film involving skintight costumes.
But with the aid of some body doubles and judiciously applied CGI, it shouldn't be too difficult for Marvel to smooth away the bump. By the time the Avengers sequel opens on May 1, 2015, moviegoers probably won't even remember that Johansson was expecting at the time that it was being shot.
What this development means for the oft-speculated and long-promised Black Widow standalone film is less clear, but that's because all of the details surrounding that particular project are still hazy. What we do know is that it's still a ways off, if it will even happen at all, so Johansson will presumably have plenty of time to have her kid and rest up before getting back to work.