Wes Anderson Art Show Inspires Painting In Wes Anderson's New Film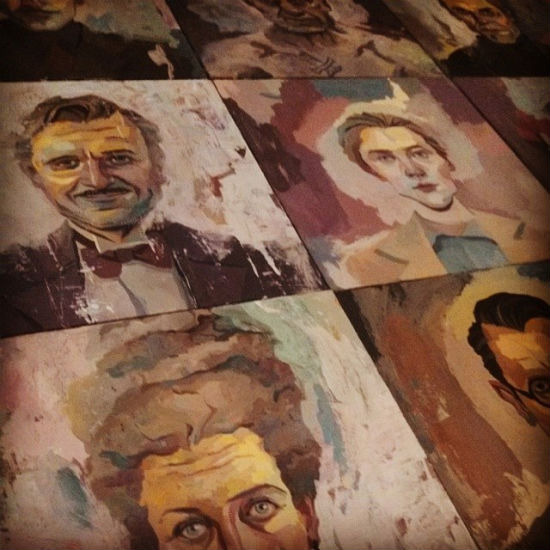 Every single day, artists make art based on films they love. It's a little more rare for that art to influence the filmmaker it was originally about.
In 2010, the San Francisco art gallery Spoke Art debuted an exhibit called Bad Dads, based on the films of Wes Anderson. The exhibit featured work based on all of Anderson's films up to that point. Since then, Bad Dads has become an annual event. It even gained the interest of Anderson himself, who said the following about the show in 2012: "Seeing somebody make artwork inspired by things in my movies is one of the most exciting things to me in a very selfish way. I feel like it's a communication to me almost, even though they probably don't intend it that way." In one case, Anderson actually turned that communication into something quite literal.
In Anderson's latest film, The Grand Budapest Hotel, paintings are part of one of the major narrative threads; several original paintings are essential to the story. To create one of them, Anderson contacted artist Rich Pellegrino, who first gained the director's attention at the aforementioned Bad Dads show. Pellegrino made a piece in the film called "Two Lesbians Masturbating," and told /Film he was contacted specifically because Anderson liked his work in Bad Dads.
It's a crazy case of pop culture art not only piquing the interest of the original subject, but inspiring that artist in his own work. Below, read the story of how the whole thing went down.
In 2009, Rich Pellegrino was contacted by the curator of the Spoke Art Gallery, Ken Harman. "I believe Ken saw my work online and reached out to me when he was getting the first Bad Dads show together," Pellegrino said.  "I made The Darjeeling Limited brothers portrait set which went over well. Soon after The Royal Tenenbaums print came out with Spoke, and it just kept rolling." The artist has been a part of each Bad Dads show since, doing portraits of all kinds of Anderson favorites with his unique and evocative, thick and seemingly sloppy style. Pellegrino does caricatures of characters, but they're recognizable and beautiful.
Fast forward to a period after the release Moonrise Kingdom in 2012. After three years of the show, Anderson was well aware of the annual event. He had his people contact Pellegrino. "I heard from them in the later part of 2012," the artist said. "They came across some of my work online, asked if I was interested in creating a piece of art to be included in the film and if I would be available for a conference call the next day." He made himself available. "After agreeing to terms to work on the film Wes and I began a conversation of what he was looking for. I sent over close to 30 thumbnails soon after. In hindsight, it was most likely way too many thumbnails, but this was a big deal and I didn't want to disappoint."
Without spoiling too much, in The Grand Budapest Hotel, Pellegrino's piece isn't the primary piece of art; it's an insert and has to have an immediate and visceral reaction. "It was clear how the piece was going to be used in the film. The painting was to have a clear and dramatic reaction, and this influenced how I approached the content and composition," Pellegrino said.
Anderson wanted the piece to look similar to the work of Austrian painter Egon Schiele, which obviously influenced what he eventually turned in. After doing a ton of research and sketching, Pellegrino did seven finals and sent the best two to Anderson. "The actual working experience with [Anderson] was what all art direction should be like," Pellegrino said. "His direction was clear, yet relaxed, which helped me understand what he was looking for while feeling free to be creative. Throughout the whole experience I never felt a stressful pressure which is astonishing to me considering how the work was to be used.  I attribute that to the working environment he and his team created. All in all it was a wonderful experience I'll never forget."
Once you see the film, Pellegrino's piece is one you'll never forget. It is vulgar, disgusting, and absolutely hilarious. [It's highly NFSW too, so click here to see it.]  And the fact it all came about because Pellegrino was an Anderson fan like all of us is something special. "It's surreal," Pellegrino said. "I'm a fan of his work, and somehow I have a piece of art in one of his films. It's what you would imagine it to be. It's still strange. With the fan art I was trying to express what I felt when watching the movies while attempting to capture the spirit of whatever film it was within just a portrait. To see that he appreciated what I did enough to have a piece in one of his films was very gratifying and humbling."
The Grand Budapest Hotel opens March 7. Read our review here.
For more on Pellegrino, visit his website or Twitter. For more on Spoke Art, click here. For previous coverage of the Bad Dads shows, click here and for all the art in the shows, visit the archive.