Geek Deal: 48% Off 'The Wizard Of Oz': 75th Anniversary Collector's Edition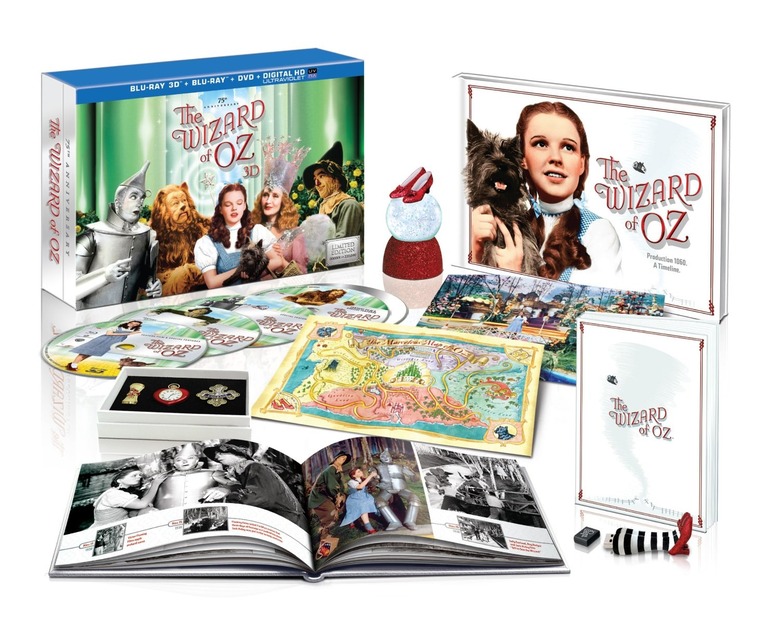 We may receive a commission on purchases made from links.
Amazon's Gold Box deal of the day today is The Wizard of Oz: 75th Anniversary Limited Collector's Edition, on sale for 48% off — only $54.99. As with any of the Amazon gold box deals, the price will disappear at the end of the day, so act fast.
The five-disc collector's edition includes Blu-ray 3D, Blu-ray, DVD and UltraViolet versions of the movie. The set includes a bunch of exclusive Promotional Items: a 52 page Hardcover Photo Book, a Ruby Slippers Sparkle Globe, a Collectible Award Pin Set by The Noble Collection, a Wizard of Oz Journal, aFrameable Map of Oz, and 4 GB "Wicked Witch of the East" flash drive (an Amazon exclusive Promotional Item).
The hours of extra content include s Sing-a-long feature with the film, a 60-minute-long Complete Magic Cloak of Oz silent shorts, All-New Feature Length Documentary The Making of the Wonderful Wizard of Oz, The Dreamer of Oz 101 minute TV Special, Munchkins at the Hollywood Walk of Fame Featurette, Patchwork Girl of Oz 60 minute feature and the 6 hour MGM Documentary When the Lion Roars (exclusive to Blu-Ray) and more.