'Legends Of Oz: Dorothy's Return' Trailer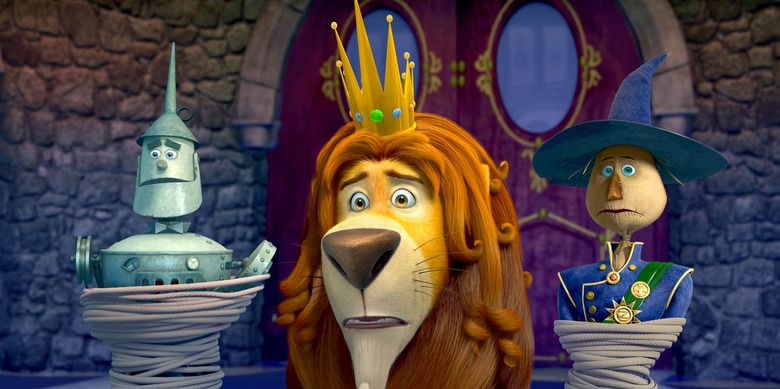 2014 marks the 75th anniversary of MGM's The Wizard of Oz, and the folks behind a new animated sequel are hoping you'll want to celebrate with a return trip. The new Legends of Oz: Dorothy's Return trailer promises more action and adventure, as the plucky Kansan heroine (voiced by Lea Michele) is whisked back to the Emerald City once more.
When she arrives, she learns that the land is being taken over by the cruel Jester (Martin Short), and that she is Oz's only hope for salvation. So she joins forces with her old pals — including the Scarecrow (Dan Aykroyd), the Tin Man (Kelsey Grammer), and the Lion (Jim Belushi) — to fight back, making some new friends along the way. Watch the video after the jump.
[Yahoo!]
Legends of Oz: Dorothy's Return looks very much like a kids' film, but adults may appreciate the strong voice cast. In addition to the stars named above, Oliver Platt, Bernadette Peters, Hugh Dancy, Megan Hilty, and Patrick Stewart lend their talents to the movie. Will Finn and Dan St. Pierre directed. See the movie in theaters May 9. 
Dorothy's only just returned home from her first incredible journey to Oz, but she's already being called back for another adventure! After waking to post-tornado Kanas, Dorothy (Lea Michele) and Toto are whisked to Oz on a magical rainbow mover sent by their old friends the Scarecrow (Dan Aykroyd), the Lion (Jim Belushi) and the Tin Man (Kelsey Grammer). Time in Oz has passed much faster than back in Kansas, and Dorothy discovers that the Jester (Martin Short) – the devious brother of the Wicked Witch of the West – is taking Oz over one region at a time, holding their leaders captive and casting a pall of darkness over the beloved land. Even Glinda (Bernadette Peters) is unable to combat the Jester's evil powers, making Dorothy their only hope.
When she arrives in Oz, Dorothy's plan is to travel to the Emerald City to reunite with her old friends and join forces with them to stop the Jester. However, the yellow brick road isn't quite as easy to follow this time around, especially with the Jester planting tricky detours to lead her astray, so she enlists the help of Wiser the owl (Oliver Platt), Marshal Mallow (Hugh Dancy), China Princess (Megan Hilty) and Tugg the tugboat (Patrick Stewart) to help find her way.
Dorothy is grateful for the support of her new friends, but when she realizes that having them by her side means putting them all in grave danger, she has to decide whether to continue to accept their assistance or forge the road alone. But with the future of Oz at stake, it's going to take as much heart, brain and courage as they can collectively muster to defeat the Jester and return order and happiness to the Emerald City.