'Better Call Saul': Aaron Paul In "Serious Talks" For 'Breaking Bad' Prequel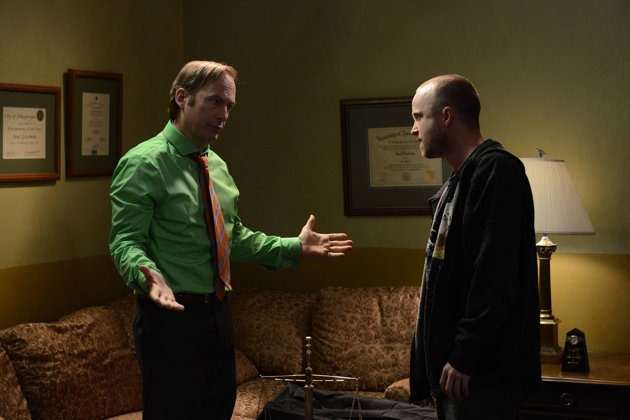 Aaron Paul wants to return to the Breaking Bad universe in the prequel series Better Call Saul. Paul not only wants to return, but he has had "serious talks" about it with the series co-creator Vince Gilligan. The show is set to be a prequel following Bob Odenkirk reprising his role as criminal lawyer, Saul Goodman. The AMC series is set to follow "the trials and tribulations in the time leading up to establishing his strip-mall law office in Albuquerque, New Mexico."
Aaron Paul better call Saul? But How?
But how could Aaron Paul's character Jesse Pinkman fit into the story if Jesse had not met Saul prior to his time with Walter White? Aaron Paul wants in, even if it doesn't make sense at first glance. The AP reports that Paul claims he has had "serious talks" show-runner Vince Gilligan about returning to reprise his role as Pinkman in the prequel series.
"Anything Vince is involved with, I'm there," Paul says. "I owe him my entire career. And the idea of jumping into the skin of Jesse Pinkman again in his lighter days — because it's all a prequel — it would be fun."
Gilligan could incorporate the Pinkman character as an associate of one of the thugs that Saul Goodman takes on during his early days. This way he could appear on screen without breaking continuity as long as he doesn't share more than a glance of screen-time with Odenkirk. I don't think a return as Pinkman could be more than a couple appearances at most because of the story logistics.
And lets remember, Paul having serious talks with Gilligan doesn't mean anything until a contract is presented and signed.
Will Dean Norris Call Saul? Probably Not In Year One
The AP also confirmed that Dean Norris will probably not reprise his role as Walter White's DEA agent brother-in-law Hank Schrader due to his shooting obligations on CBS' Under the Dome series. But never say never, I would bet that Better Call Saul will outlast Dome on television and when Norris is out of work, the oppurtunity to film a fun walk-on will present itself.