'Bond 24' Starts Filming In October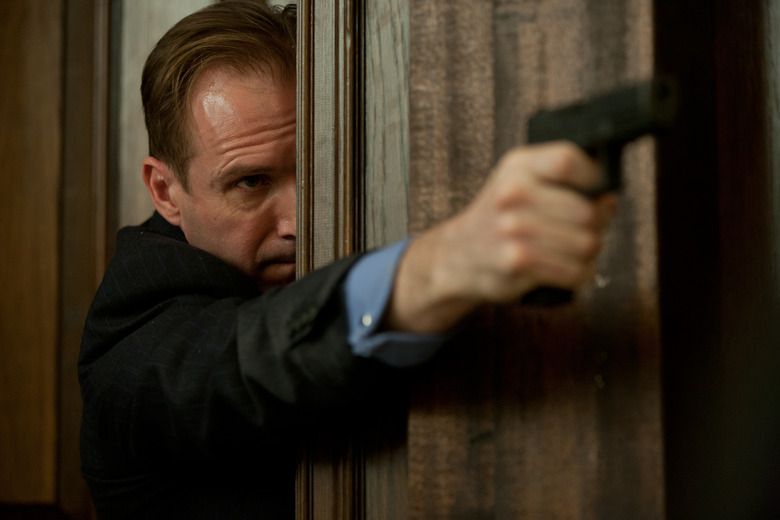 Twenty-four. Bond 24. The new M, Ralph Fiennes, hasn't even read the script to the next James Bond film, but the actor says he knows when he and Daniel Craig will be sharing martinis. Sam Mendes will start filming the follow-up to Skyfall in October, aimed at a November 6, 2015 release.
Fiennes spoke to MTV about the film schedule:
It's meant to start shooting in October. I haven't read a script yet, so I can't tell you much. They'd probably swear me to secrecy anyway.
Screenwriter John Logan is once again writing this latest Bond adventure, but not much is known yet. Except, of course, that Fiennes will be back along with Bond himself, Daniel Craig.
Skyfall was the most successful Bond film in the franchise's illustrious history, grossing over $300 million domestic and over $1 billion worldwide. Mendes wasn't sure whether or not he would return, but eventually the call of the world's most famous spy was too much.
He'll be without one of Skyfall's most potent weapons, and not any gun, fast car or gadget. Cinematographer Roger Deakins, who was Oscar-nominated for his work on the film, won't be returning this time around. (Though, to be fair, that news broke a few weeks ago before the filming date was revealed. Deakins is finishing two films that come out later this year – Angelina Jolie's Unbroken and the DreamWorks Animated sequel How to Train Your Dragon 2 – and isn't publicly confirmed for anything after that. Sam Mendes certainly wavered on whether he'd make this movie. Maybe Deakins will too?)
An October start date means we probably won't hear much more about Bond 24 until, at least, the summer. But you'll be able to read about it right here.
The Twenty-Fourth Adventure of James Bond, commonly referred to as Bond 24, opens November 6, 2015. Do you think Mendes, Craig, Fiennes and the crew can live up to the huge success that was the layered, exciting Skyfall?