'Yeezus' Trailer: Kanye West Is Coming To The Movies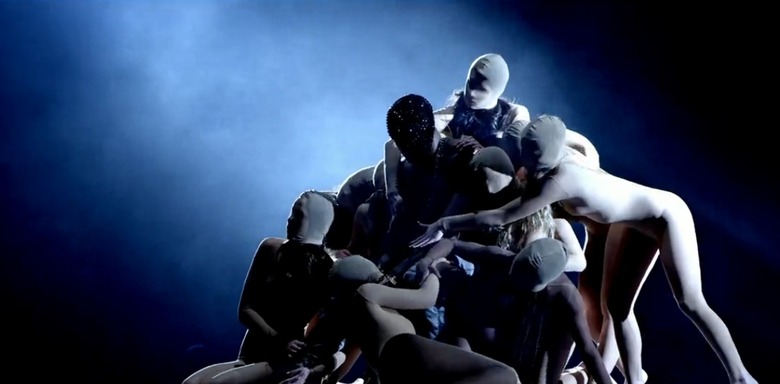 Kanye West has unveiled the first Yeezus trailer, and it's... something. The music is fantastic, as you'd expect, and the imagery is colorful, arresting, and bizarrely beautiful. What's missing is any explanation of what Yeezus actually is.
West's website simply says that it's a film "directed by Hype Williams coming to theaters," and from what we can tell it looks like a concert film from his Yeezus tour. But given that Bret Easton Ellis recently revealed that he was working on a feature with West, this could be something a little different from your typical concert movie. Hit the jump to watch the video and to get the latest word on the Ellis-scripted film.
If we has to guess, we'd say this is probably a separate project from Ellis' feature. The writer said earlier this month that he was waiting to "see what happens." The Williams movie seems much further along than the "see what happens" stage, given that there's a trailer already. Ellis did not give any other details at the time.
Naturally, though, that hasn't stopped Ellis' movie from becoming the subject of gossip and speculation. The latest rumor from Radar Online is that it'll be a biopic of West based on his Yeezus album, featuring West's fiancée Kim Kardashian in a "pivotal" and "dramatic" role.
Even wilder is the tale that West wants Liam Neeson to play Jesus in that film, among other things. That story was based on a supposedly leaked page of the script, but as no one's confirmed anything it could be a total hoax. Still, it's fun to speculate — especially since Kanye seems like the kind of guy who would insist on casting Neeson as Son of God in West's own biopic.
Whatever the Yeezus trailer turns out to be for, it won't be Williams' first time working with West. The pair previously collaborated on the music videos for "Heartless," "Gold Digger," "Diamonds from Sierra Leone," and "All of the Lights." Additionally, Williams also penned the West-directed short film Runaway.
Watch Runaway below:
And here's "All of the Lights." Be warned that it may "potentially trigger seizures for people with photosensitive epilepsy."
Finally, here's "Gold Digger," which is still a really fun song.