'Anchorman 3' Won't Happen Says Adam McKay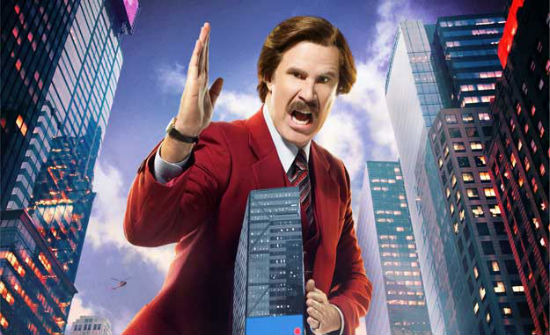 Want an Anchorman 3? Don't hold your breath. Friday, when the extended/alternate cut of Anchorman 2: The Legend Continues hits select screens, will be the last time Will Ferrell's trademark Ron Burgundy's mustache will grace movie theaters. Writer/director Adam McKay says there will never be an Anchorman 3. Read his full quote below.
McKay spoke to Empire and revealed the following:
It's done. I think that's it. It was great to do it and it was so fun to work with those guys again, but I think that's it for Ron Burgundy.
Will they do any other sequels, like that rumored Step Brothers sequel?
No, that's the last sequel we're gonna do. There's nothing more fun to me than new characters and a new world. And now we're releasing this alt version, we're totally satisfied. No Anchorman 3.
Anchorman 2: The Legend Continues outgrossed the original film, and was certainly considered a hit at Paramount. The re-release will add more to the coffers, in hopes of cementing the "Legend" of the franchise. No film has ever been re-released in theaters in such a radical fashion, with over 700 new jokes and added footage. It'll be interesting to watch.
However, I think McKay is on the money with this one. He and star Will Ferrell are fantastic together and while it was great to see Ron Burgundy and the news team back together again, I personally felt Anchorman 2 went so far beyond the edge to justify itself. It lost some of the originality that made the first film so fun.  Who knows what crazy characters those guys could come up with next?
At the end of the Empire interview, the reporter asked McKay one more time, if maybe in 10 years, McKay would bring Burgundy back for Anchorman 3:
I'm going to say definitely no. I'll actually say it in this case!
Are you disappointed there won't be an Anchorman 3? Will you be seeing the new version of Anchorman 2?