'Brooklyn Castle' Adaptation Coming From Seth Rogen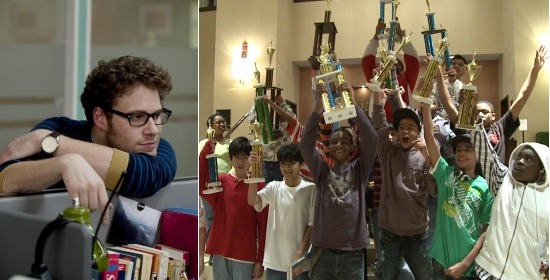 Brooklyn Castle is being turned into a narrative feature, courtesy of Seth Rogen and his 50/50 team. His Point Grey has set up an adaptation of the junior high chess documentary at Sony, with 50/50 helmer Jonathan Levine and 50/50 scribe Will Reiser on board.
Directed by Katie Dellamaggiore, the original film centered on the adolescent chess whizzes of I.S. 318. Though the kids' triumph would've been admirable in any context, it was made even more so by the fact that they hailed from Intermediate School 318 — a poor inner-city school in Brooklyn where about two-thirds of the students live below the federal poverty line. Hit the jump for more details on the project.
Rogen previously starred in Levine's 50/50, which was written by Reiser based on his own youthful experience with cancer. Goldberg produced the film. Rogen and Levine are also set to reunite with 50/50's Joseph Gordon-Levitt on a Christmas comedy.
Dellamaggiore's Brooklyn Castle premiered to high praise at the 2012 South By Southwest Film Festival, ultimately going home with the Audience Award. Rudin picked up the remake rights not long afterward, but this is the first significant step forward we've heard about since then. Here's a description of her movie:
Brooklyn Castle is the remarkable and improbable true story of I.S. 318 in Brooklyn. The school, where 65% of students live below the federal poverty level, has the highest ranked junior high chess team in the nation. The heart of the film is the engaging young students who populate the team: Rochelle, who has the goal of becoming the first female African-American chess master; Pobo, the team's charismatic leader; Justus, an entering student who must manage the high expectations that come with achieving master status at an early age; Alexis, who feels the pressure of his immigrant parents' desire for him to realize the American dream; Patrick, who uses chess to help overcome his ADHD; and James, the young rapping maestro and budding chess talent; among several others.
The Brooklyn Castle adaptation is one of three projects Point Grey has in the works with Rudin. The others are Console Wars, which we reported on earlier this week, and an as-yet-unnamed comedy starring the Workaholics trio.