Watch: "Homemade" 'Hook' Remake Featuring Original Rufio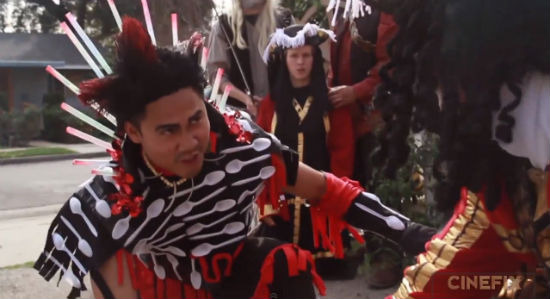 As someone who grew up in the Nineties, it's kind of hard to get my mind around Nineties nostalgia. It honestly feels like it was yesterday, even though we're 15 plus years removed. That said, I still enjoy it and Cinefix has just created a prime example to stab me straight in the heart – a homemade Hook remake.
They got Dante Basco to reprise his role as Rufio in a short, "homemade" (basically sweded) scene from Steven Spielberg's Hook. It's surreal and funny to see this exciting, emotional scene played out in a Los Angeles driveway. With Basco there to utter his classic lines, however, it's very worth your time. Plus there's a behind the scenes video and a side by side with Spielberg's version. Check them out below.
Here's the shot by shot, homemade version of the scene:
Here's the side by side comparison, Hook vs. the Homemade Hook remake:
And here's the behind the scenes of the Hook remake:
Growing up, I loved Hook unconditionally. I saw it as one of those smart takes on a well-known property Hollywood tries to duplicate these days (think Alice in Wonderland or Oz the Great and Powerful). However, I rewatched it again about six months ago and I must say, it does not hold up too well. Viewed through more educated eyes, there are so many illogical plot points, character choices, filmmaking decisions, it's all kinds of messy. John Williams' score, the production design and performances are still great but – yeah – I was supremely disappointed to have my childhood memories tainted ever so slightly.
Thankfully, this video helps restore it. What do you think?
Here's the Cinefix description of the shoot from YouTube:
You can't help but feel the 90s nostalgia for "Hook." Even Dante Basco feels it. Which is why he joined us for 90s Week here at CineFix, in our to reprise his role as Rufio in our Homemade shot-for-shot recreation of this famous scene!
Homemade Movies serves up creative remakes of your favorite movies, trailers and original songs. Every episode is an exact shot-for-shot remake created at home without any visual effects. It's homemade movie magic from acclaimed director Dustin McLean! Let us know in the comments what movie you want to see homemade next!