Watch A New Song From 'Frozen' In A Making Of 'Frozen' Video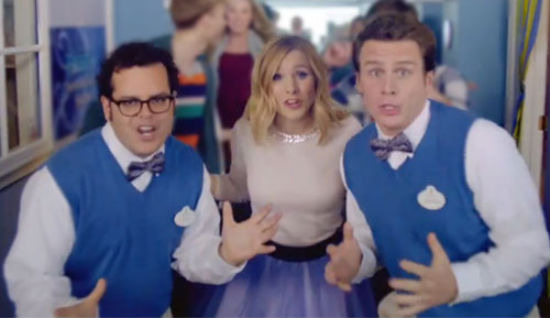 Even though Frozen is still raking in the bucks at the box office, the Blu-ray hits shelves in a few short weeks. It's already on digital download, but leading up to March 18 release we'll surely see some very cool behind the scenes content from the year's biggest animated film.
Odds are none will be cooler than this behind the scenes video featuring Josh Gad (Olaf), Jonathan Groff (Kristoff) and Kristen Bell (Anna) dancing around Disney Animation Studios singing a brand new song by the film's award-winning team of Robert Lopez and Kristen Anderson-Lopez . You won't actually learn anything about Frozen, but will get an insider look at the iconic building and hear yet another super catchy song to boot. Check it out.
Thanks to Smosh for the video. Here's an embed but, if it doesnt work, click on the above link.
This clip will be on the Blu-ray, out March 18, the likely intro to a slew of special features. Here's the full list:
-The Making Of Frozen (Blu-ray, Digital)
D'frosted: Disney's Journey From Hans Christian Anderson to Frozen (Blu-ray, Digital)
Breaking the Ice – The Real Making of Frozen (Blu-ray, Digital)
4 Deleted Scenes with introduction by Directors Chris Buck and Jennifer Lee
 Original Theatrical Short – "Get A Horse" (Blu-ray, Digital & DVD)
 "Let It Go" Music Videos by Demi Lovato, Martina Stoessel & Marsha Milan Londoh (Blu-ray, Digital & DVD)
Frozen Teaser Trailer (Blu-ray, Digital & DVD)
With the lack of 3D available on this release, you can all but bet there will be a super, deluxe edition coming later this year. But until that, this will have to suffice.
Walt Disney Animation Studios, the studio behind "Tangled" and "Wreck-It Ralph," presents "Frozen," a stunning big-screen comedy adventure. Fearless optimist Anna (voice of Kristen Bell) sets off on an epic journey—teaming up with rugged mountain man Kristoff (voice of Jonathan Groff) and his loyal reindeer Sven—to find her sister Elsa (voice of Idina Menzel), whose icy powers have trapped the kingdom of Arendelle in eternal winter. Encountering Everest-like conditions, mystical trolls and a hilarious snowman named Olaf (voice of Josh Gad), Anna and Kristoff battle the elements in a race to save the kingdom.