Concept Art For Guillermo Del Toro-Produced 'Book Of Life'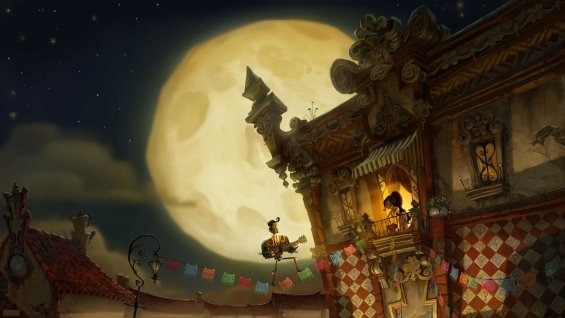 Concept art can be a huge tease — too often we see art that is a lot more visually striking than whatever ends up on screen for a given film. Even in animation, where the concept art and final product theoretically can be close, the difference can be huge.
Director Jorge Gutierrez is irritated when that happens, and promises that his upcoming Fox film The Book of Life, based around the Mexican Day of the Dead and produced by Guillermo del Toro, will look just like the film's concept art.
Gutierrez told THR "my biggest heartbreak is that I see all this glorious art, and then the movie doesn't look like that! ... The mandate of this movie was: Our 'Art of' book is going to look exactly like the movie. And every artist poured their heart and soul into that idea."
Fox will release the film, which is produced by Reel FX Animation Studios (Free Birds). The film is set on the Day of the Dead and is centered around " young man named Manolo who is torn between what he wants to do (play guitar and win the heart of the girl of his dreams) and what his family wants him to do. He ends up traveling across three different worlds to find himself."
Channing Tatum and Zoe Saldana are the two voice leads; the cast also includes Danny Trejo, Ice Cube, Christina Applegate and Diego Luna among others. The film is dated for October 17 of this year.
The header image above is one of two shots revealed by THR; another is below.