Star Wars Bits: 'The Clone Wars Lost Episodes' Trailer; Plus Harrison Ford, Eric Tan And Richard Marquand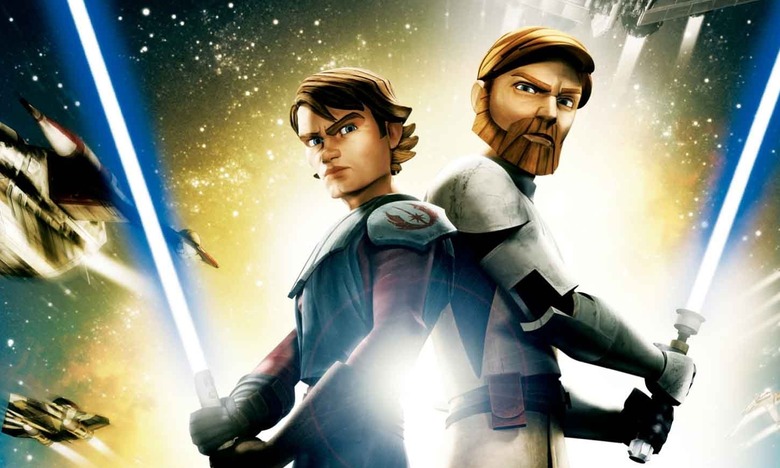 A new Star Wars trailer for the "lost episodes" of the Clone Wars headlines this jam-packed edition of Star Wars Bits. Below, read about the following.
Watch the trailer for Star Wars: The Clone Wars – The Lost Missions coming soon to Netflix.
Harrison Ford is rumored to be part of a TV miniseries being shot during the Star Wars Episode VII filming schedule.
Star Wars merchandise is now being sold in Disney stores in person and online.
Artist Eric Tan makes his first Star Wars poster.
The female Star Wars Rebels character toys will debut at San Diego Comic-Con.
Sign a petition to name a stage at Pinewood Studios after late Return of the Jedi director Richard Marquand.
The sound mixer for Star Wars Episode VII is excited.
Netflix will begin to stream "The Lost Missions" of Star Wars: The Clone Wars on March 7 and the first trailer has been released. According to the description, the trailer "offers a glimpse into the various story arcs of The Lost Missions. Yoda communes with Qui-Gon Jinn and is sent on a journey; Jedi Master Plo Koon discovers Sifo-Dyas' lightsaber and a clue to the creation of the clone army; Count Dooku looks to protect the secret of Order 66; Anakin Skywalker rescues Padmé Amidala; and Mace Windu battles multiple foes."
Here's a potentially interesting rumor. A Mexican news site (via StarWars7News) reports Harrison Ford has been cast in a TV Miniseries called Texas Rangers, to be produced by the History Channel. The show reportedly will have a huge ensemble cast and film during the same months Star Wars Episode VII is filming so, if Ford is indeed in both projects he's going to be pulling double duty.
It's taken over a years, but Rebelscum reports Star Wars has officially begun to invade Disney Stores, both in malls and on the internet. You can see their online offerings here, but one in particular is worth pointing out...
Eric Tan has been making awesome art (for X-Men, Indiana Jones, Lost, Captain America) for years. He recently had a solo show at Gallery 1988 in Los Angeles, but in the meantime, spends his days working for Disney. He's just released a limited edition screenprint for Disney'a latest acquisition: Star Wars. And it is beautiful. Head here to buy the piece (which is limited to 100 pieces and only available framed, which is why it's $400) and to see a better image.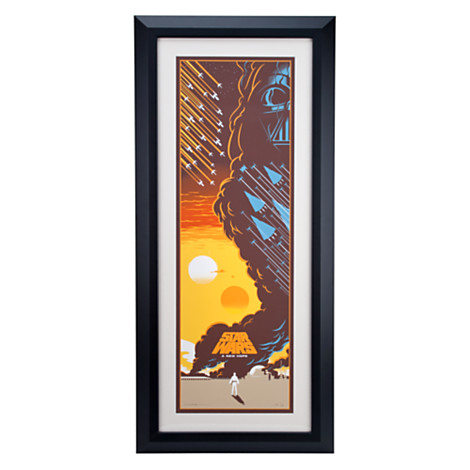 Lots of toys for Star Wars Rebels were revealed at NY Toy Fair last week, but two who were noticeably absent were Sabine and Hera, the two female stars of the show. According to Newsarama, those toys will debut at San Diego Comic-Con, which is still months before the show debuts on Disney XD.
A petition is making the rounds to name a stage at the new Pinewood Studios after Return of the Jedi director Richard Marquand. You can read more and sign the petition here. Thanks to Metro. Either way, Star Wars and Pinewood will be synonymous going ahead as that's where Star Wars Episode VII is being shot.
Finally, The Hollywood Reporter spoke to Oscar-winning sound mixer Andy Nelson, who'll be working with J.J. Abrams on Star Wars Episode VII. He was given a Lifetime Achievement Award at the Cinema Audio Society Awards and said the following about working with Abrams in general, and the new film:
[J.J. Abrams] can communicate fairly quickly with us, and we can move the soundtrack in the direction he wants. When I saw the first Star Wars in London, I was shocked by what a fantastic experience it was. Star Trek was a TV show I watched growing up. I could never have imagined that I would end up working on feature films with those stories.