'Star Trek' Theme Park Concept Art And 'Ratatouille' Ride Update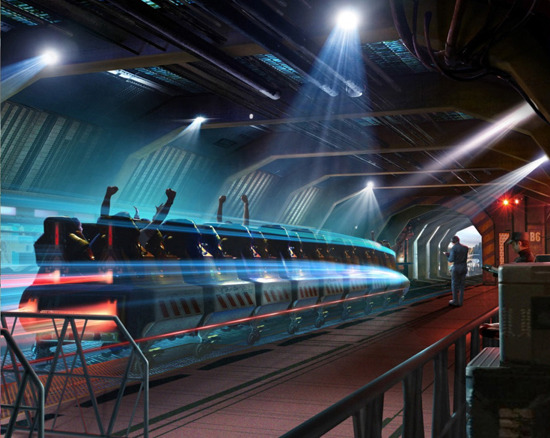 Let's turn the spotlight on one theme park attraction that's here and another coming in the future. First up, Disneyland Paris held a big presentation for stockholders to show off the brand new Ratatouille thrill ride opening later this year. The full video of the event is online, along with some very cool concept images and construction photos from inside the attraction.
Next up, Star Trek. A few weeks back we reported Paramount is creating a massive theme park in Spain. Rango, Spiderwick Chronicles, Sleepy Hollow, Mission: Impossible, Grease and more will all be represented. Most exciting is that a full Star Trek area will be part of the park. A bunch of concept art has been released and you can check it out below.
Starting with the ride we'll see first, Micechat has an extensive report on the Ratatouille presentation in Disneyland Paris. Below, check out a few screen shots from the presentation, including a model of the full experience as well as some construction photos.
And here's the full presentation on video.
The Star Trek land will be in side Paramount Park Murcia, located about 300 miles outside of Madrid, Spain at Alhama de Murcia. We ran some images a few weeks back, but now StarTrek.com made it official. Check out these images.
The area, dubbed "Plaza Futura," will include "a large futuristic square that will include a Starfleet Spain recruiting center, a 3D simulator ride (which allows guests/recruits to experience adventures in outer space), and a Warp Speed Coaster that will reach exciting heights and speeds and include an underground portion (a wormhole, naturally) and several loops." Read more on their site, or more about the full park here.