Evan Goldberg's 'Pulp Fiction' Live Read Celebrates Quentin Tarantino's Brilliant Film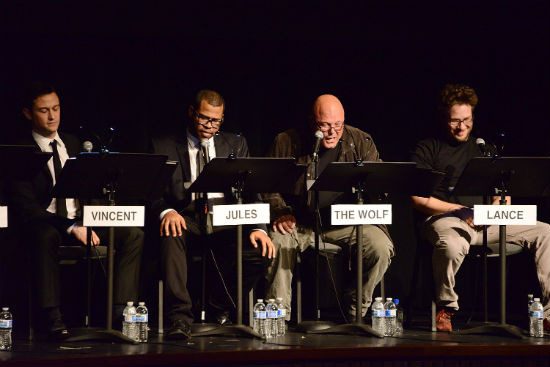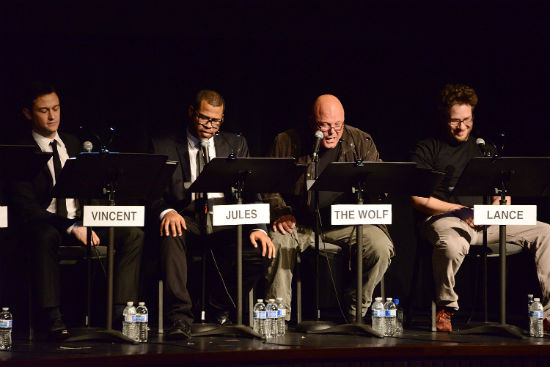 There's absolutely no need to touch Quentin Tarantino's Pulp Fiction. Built around an Academy Award winning screenplay, the film is pretty much perfect from beginning to end. It teems with exquisite detail as performances and dialogue tell interweaving stories of crime and craziness. A reinforcement of that absolute brilliance was the main thing I took out of the latest Film Independent at LACMA Live Read, which took place February 20 in Los Angeles. Director Evan Goldberg (This is the End) subbed for Jason Reitman and assembled an eclectic, star-studded cast to read Tarantino's masterwork. It was a two and a half hour celebration of Pulp Fiction's perfection.
While no one could ever replace the iconic cast of John Travolta, Samuel L. Jackson, Uma Thurman and so many others, stars like Joseph Gordon-Levitt, Seth Rogen, Jonah Hill and Lizzie Caplan laughed, imitated and sometimes stumbled through the script with excitement and reverence. Along the way, a few Easter Eggs were uncovered, alternate interpretations attempted and much fun was had. Read about the live read below.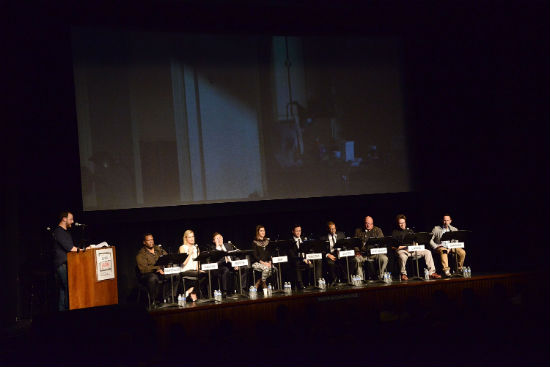 ALL PHOTO CREDIT: WireImage
To start, here's the full cast with their main roles, as well as the others they read:
Joseph Gordon-Levitt as Vincent (as well as Boxing Announcer #1)
Jordan Peele as Jules (as well as The Gimp)
Lizzy Caplan as Mia (as well as Honey Bunny/Yolanda, Trudi)
Jonah Hill as Butch (as well as Pumpkin/Ringo)
Seth Rogen as Lance (as well as Jimmy, Maynard)
Wendell Pierce as Marsellus (as well as Boxing Announcer #2)
Rebecca Romijn as Fabienne (as well as Esmarelda and Jody)
Michael Chiklis as The Wolf (as well as Captain Koons, Brett)
Nick Kroll as Marvin (as well as Zed, English Bob, Ed Sullivan)
Evan Goldberg, the evening's guest director and reader of the script, started the night by saying how he and childhood friend Seth Rogen credit Pulp Fiction with their obsession with film. It set them on a path of directing and writing their own movies, which eventually led to big things for both. So there's good reason this was the script Goldberg chose, with Tarantino's blessing, to present for his live read.
It would be pointless to go through the entirety of Pulp Fiction and talk about what each actor did with each character. At well over two hours, the event was simply too chock full of awesome. Instead, I'm going to just write about what each actor brought to the experience and any oddities that arose in their characters and sections. One important note: this reading is the first and last time any of these actors are reading these roles. They're doing it cold off the page, in front of an audience, so there obviously isn't as much polish as the final film.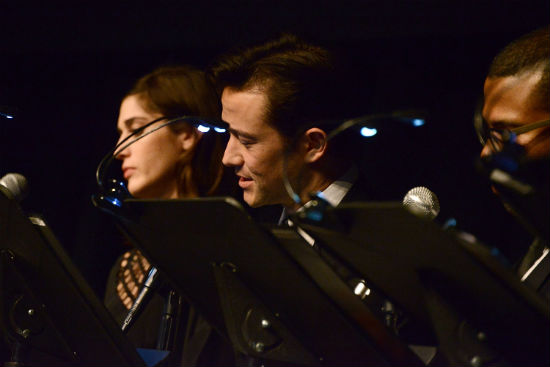 Joseph Gordon-Levitt as Vincent (as well as Boxing Announcer #1)
From the second the live read started, Gordon-Levitt was in heaven. He was smiling and laughing along with Tarantino's script like he was watching the movie in 1994. When it came to playing Vincent Vega, the actor started with an understated Southern drawl, but eventually morphed into straightforward, soft-spoken gangster. He played a more subdued version than John Travolta, but it worked. Plus, his chemistry with Peele as Jules, and especially Rogen as Lance, was just spot-on. The two screamed back and forth over the adrenaline shot to the delight of the crowd.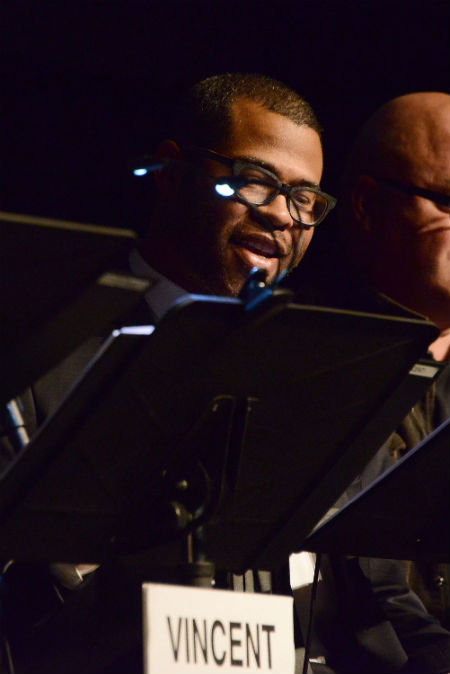 Jordan Peele as Jules (as well as The Gimp)
Jules is arguably the toughest character in the film and Peele, best known for his comedy, focused on Jules' funnier aspents when he could. There were lots of laughs when delivering some of Jules' signature lines. During straight dialogue, though, Peele's lack of dramatic chops came through as he stumbled through Tarantino's boisterous dialogue. Overall, the actor did Samuel L. Jackson proud by giving the character some real personality. Speaking of personality, instead of "Arnold from Green Acres," that "charming mother fuckin' pig" was originally scripted as "the Cary Grant of pigs."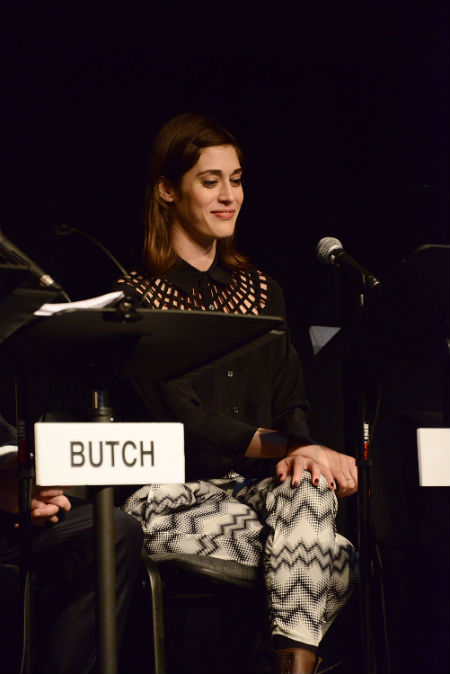 Lizzy Caplan as Mia Wallace (as well as Honey Bunny/Yolanda, Trudi)
How good was Lizzy Caplan in her roles? She nearly made me forget Uma Thurman and Amanda Plummer. Almost. As Honey Bunny, Caplan basically paid homage to Plummer, gleefully screeching out her classic lines. And as Mia, the actress didn't quite nail Thurman's razor sharp aloofness, but came very close by easily digesting Tarantino's dialogue and delivering it with energy and verve. Plus, when it came time to Twist at Jackrabbit Slim's, she and Gordon-Levitt pushed away their chairs and danced at center stage. It was fantastic.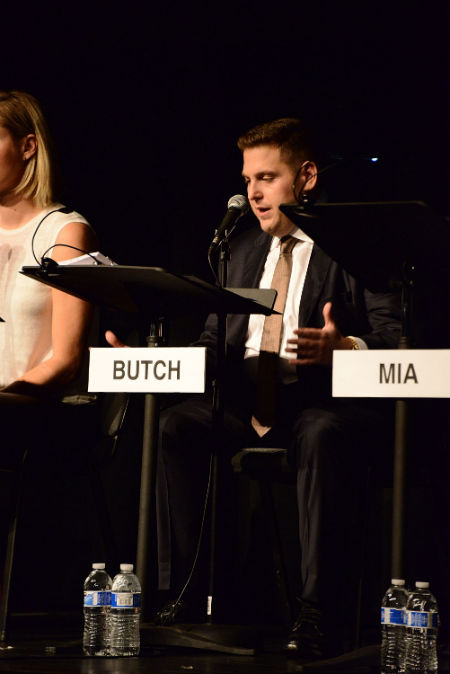 Jonah Hill as Butch (as well as Pumpkin/Ringo)
Hill had two incredibly difficult roles to pull off, the first being the eloquent robber Pumpkin that kicks off the film and then the quiet but deadly Butch. As the former, Hill struggled to keep up with Tim Roth's pace and dialect. But as Butch, Hill definitely put some thought into his read and performed most of the role leaned back in his chair, relaxed, two hands grasped around the mike really giving the character a cool, calm innocence. One interesting tidbit: Butch speaks far more French in this version of the script.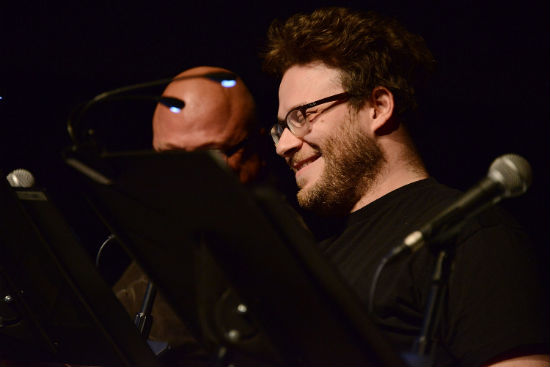 Seth Rogen as Lance (as well as Jimmy, Maynard)
As stated above, Rogen and Goldberg credited Pulp Fiction with their careers and you their passion for it was infectious. The writer/director/actor was having a blast throughout the entire evening, often times screwing up his fellow actors by chuckling or snorting so loudly the mikes picked him up. Playing Lance, Rogen pitched up his voice and spoke even faster and more wild than Eric Stoltz does in the film. Out of everyone, this was the most personal and different take on a character. Think Pineapple Express on speed. As Maynard, Rogen made the pawn-shop rapist much more dirty and drawling, due in part to lots of dialogue Tarantino cut from the final movie. Finally, as Jimmy, Rogen definitely channeled a bit of Tarantino for a scatter-brained portrayal.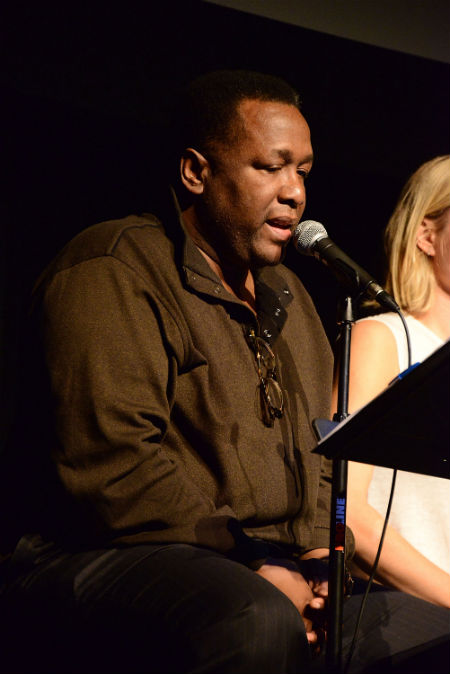 Wendell Pierce as Marsellus (as well as Boxing Announcer #2)
From his very first line, it was as if Pierce was born to play this role. He wasn't better than Ving Rhames, but The Wire star used his deep voice to full effect in bringing the mysterious crime boss to life. And when it was time to get "medieval" on Zed's ass, the crowd cheered in delight. Another script nugget: Marsellus actually calls the Wolf at the end of that scene too, which was later cut.
Rebecca Romijn as Fabienne (as well as Esmarelda and Jody)
I've got to say, the biggest surprise of the night had to be Romijn, who gave Esmerelda a perfect Spanish accent, and used a great French accent as Fabienne. Both were seductive and sexy, but also as funny and cute as they needed to be. If anything, she was almost too perfect and overshadowed Jonah Hill, with whom she interacted in both her roles.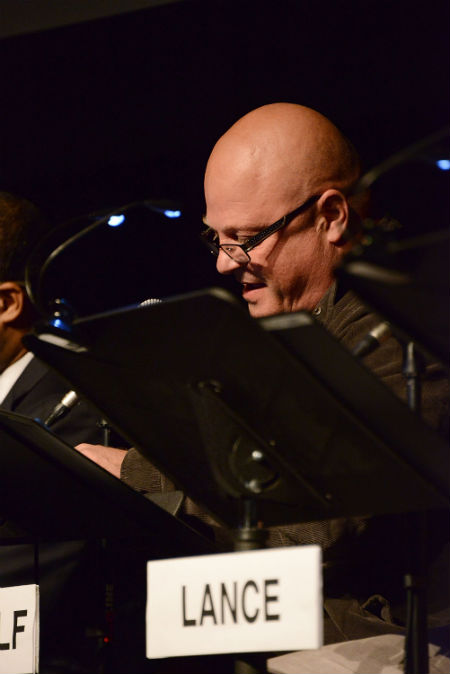 Michael Chiklis as The Wolf (as well as Captain Koons, Brett)
Jordan Peele might have had big shoes to fill, but Chiklis had that times two. Now only did he have to play Harvey Keitel's role, The Wolf, but Christopher Walken's Captain Koons, too. In that role, Chiklis did he best to deliver the beefy monologue, but struggled with the cadence a bit. He won the crowd over, though, when he did a Walken imitation for the famous final lines, and actually removed his watch. The Wolf was another story, though. Chiklis didn't quite imitate Keitel, but certainly used him as an inspiration to hone in on a delivery and sense of confidence. It was impressive. Also impressive was him playing Frank Whaley's role, Brett. Chiklis tensed his whole body and pitched his voice up to a squeal, giving a hilarious performance.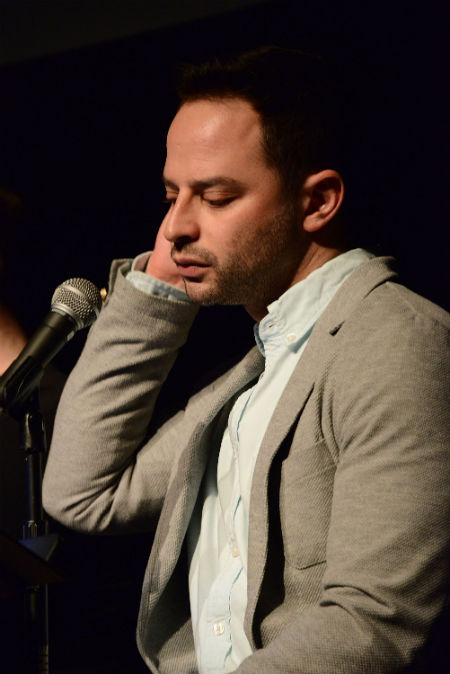 Nick Kroll as Marvin (as Zed, English Bob, Ed Sullivan)
Compared to everyone else, Nick Kroll didn't have as much to do, but he made the most of his limited stage time. For example, when Zed gets shot by Marsellus, Kroll responded with a super feminine "Owwww" which got a huge laugh from the crowd. (Incidentally, the rape scene was originally imagined to play against a song by The Judds.)
***
Throughout the evening, Goldberg would literally stand back and put his hand behind his head to marvel what he'd overseen: an awesome reinterpretation of a film we all know and love so much. Listening to the script without the visuals, Tarantino's disregard for the "rules," in putting so much seemingly superfluous dialogue on the page, is almost insane. It's incredible this movie exists the way it does. And it always will exist in that way; this was just an awesome, one night-only homage to one of the best and most influential movies ever made. In the end, while these actors got a standing ovation, everyone was really clapping for Quentin Tarantino, Roger Avery, the original cast, and the work of everyone who made Pulp Fiction.
Thanks to Film Independent at LACMA for a wonderful evening. The next live read, with the return of Jason Reitman, is March 20.