'In The Blood' Trailer: Gina Carano Continues To Kick Ass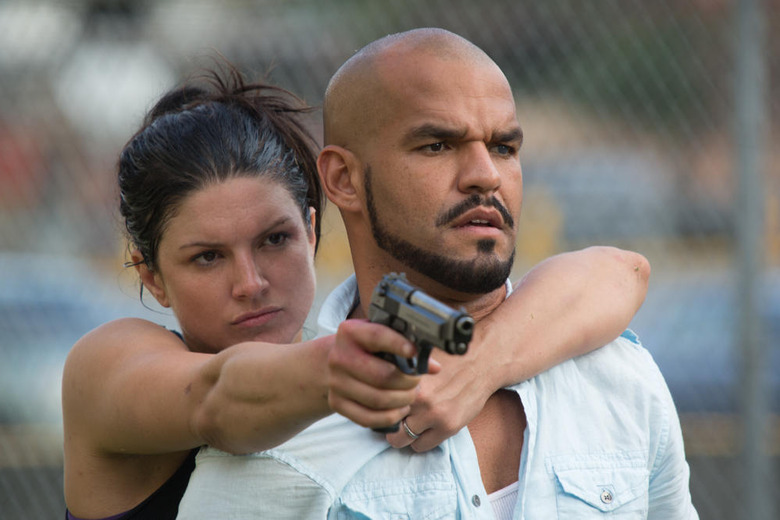 You'd think people would know better than to mess with Gina Carano, but if they didn't, Gina Carano wouldn't have any movies to star in. The Haywire star's latest outing is In the Blood, in which she plays a newlywed determined to uncover the truth about the disappearance of her husband (Cam Gigandet).
Glowering men like Luis Guzman, Danny Trejo, Stephen Lang, and Amaury Nolasco try to block her at every turn, only for her to beat them into submission. Because that's what Gina Carano does. Watch the trailer after the jump.
In the two years since Haywire hit theaters, Carano has appeared in only one other movie — last year's Fast & Furious 6. And based on her IMDb profile, it doesn't look like she has any other big projects coming up. So it's nice to see her back in action here, even if In the Blood doesn't appear to be quite on the same level in terms of quality.
It all looks pretty cheesy, from the cartoonish sound effects to the half-assed attempt at political relevance ("Maybe you can torture people in America, but not here!"). But if you're a fan of the MMA fighter-turned-movie star, In the Blood should make for a fun distraction.
Directed by John Stockwell (Blue Crush, Turistas), In the Blood lands in theaters and on VOD April 4.
Gina Carano stars as Ava, a trained fighter with a dark past. When her new husband (Cam Gigandet) vanishes during their Caribbean honeymoon, Ava uncovers a violent underworld of conspiracy in the middle of an island paradise. Armed with a deadly set of skills, Ava sets out to discover the truth – and to take down the men she thinks are responsible for his abduction, one by one.