Tina Fey's Latest Project Is Middle East War Comedy 'The Taliban Shuffle'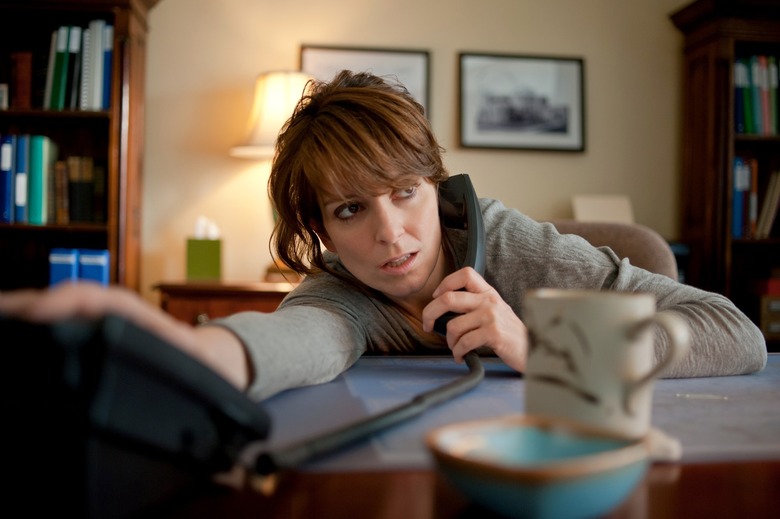 We may receive a commission on purchases made from links.
Between Saturday Night Live, 30 Rock, and her Golden Globes hosting stints, Tina Fey's TV career is nothing short of stellar. But her track record with movies has been somewhat spottier. Sure, Mean Girls is a classic and Date Night wasn't bad, but Baby Mama and Admission were both forgettable duds, and the jury's still out on Muppets Most Wanted.
Thankfully, her newest role sounds fairly promising. Fey is attached to star in and produce Paramount's The Taliban Shuffle, scripted by a 30 Rock writer, based on a journalist's memoir of her time in Afghanistan and Pakistan. Hit the jump for more details on this latest gig.
Barker's journey began in 2002 when she arrived in Kabul as a journalist with no idea how to speak the local language. Over time, she learned to do the "Taliban Shuffle" between Afghanistan and Pakistan and grew to love the unstable region, and fear for its future. Based on the reviews, the memoir features a striking combination of brains, humor, and heart that should be right up Fey's alley.
Fey has kept herself very busy since the end of 30 Rock last winter. She starred with Paul Rudd in Admission, popped up for a cameo in Anchorman 2: The Legend Continues, and hosted the Golden Globes with BFF Amy Poehler. She'll be seen next month in Muppets Most Wanted, and this fall in Shawn Levy's comedy This Is Where I Leave You. In addition, she has two new shows in the works from NBC and Fox.
Here's the official synopsis of Barker's tome, via Amazon:
When Kim Barker first arrived in Kabul as a journalist in 2002, she barely owned a passport, spoke only English and had little idea how to do the "Taliban Shuffle" between Afghanistan and Pakistan. No matter—her stories about Islamic militants and shaky reconstruction were soon overshadowed by the bigger news in Iraq. But as she delved deeper into Pakistan and Afghanistan, her love for the hapless countries grew, along with her fear for their future stability. In this darkly comic and unsparing memoir, Barker uses her wry, incisive voice to expose the absurdities and tragedies of the "forgotten war," finding humor and humanity amid the rubble and heartbreak.