See And Hear Bradley Cooper Voicing Rocket Raccoon In 'Guardians Of The Galaxy'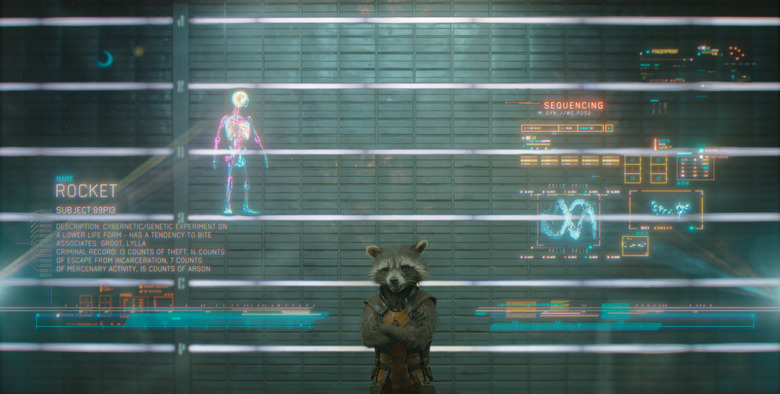 Were you disappointed that the first trailer for Guardians of the Galaxy did not include the voice of Bradley Cooper as Rocket Raccoon or Vin Diesel as Groot? We were, too.
But turns out we don't have to wait for those reveals. If you want to hear Cooper as Rocket, you're in luck: Marvel and Disney have just released a short character profile video that shows a bit of new Rocket footage, and lets us hear Cooper's take on the voice. That's embedded below, and it looks like similar videos for other Guardians cast members will follow shortly. 
We can probably expect a few more of these videos over the next week or so, meaning we'll likely be hearing Vin Diesel's line "I am Groot" very soon.
Guardians of the Galaxy opens in the US on August 1, 2014.
An action-packed, epic space adventure, Marvel's "Guardians of the Galaxy" expands the Marvel Cinematic Universe into the cosmos, where brash adventurer Peter Quill finds himself the object of an unrelenting bounty hunt after stealing a mysterious orb coveted by Ronan, a powerful villain with ambitions that threaten the entire universe. To evade the ever-persistent Ronan, Quill is forced into an uneasy truce with a quartet of disparate misfits—Rocket, a gun-toting raccoon, Groot, a tree-like humanoid, the deadly and enigmatic Gamora and the revenge-driven Drax the Destroyer. But when Quill discovers the true power of the orb and the menace it poses to the cosmos, he must do his best to rally his ragtag rivals for a last, desperate stand—with the galaxy's fate in the balance.