Exclusive: New 'True Romance' Poster, With Detroit And Los Angeles-Themed Editions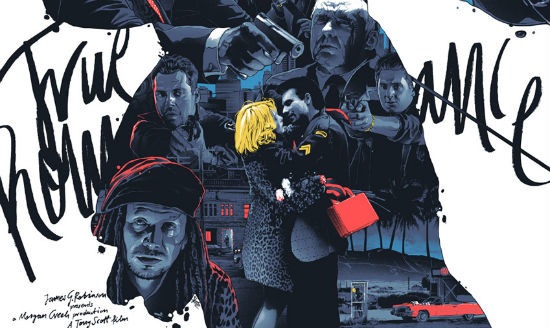 Odd City Entertainment is making the best of their True Romance license, releasing a second poster from the iconic 1993 Tony Scott film. We're proud to exclusively debut this poster by rising Polish star Gabz, which shows many of the film's signature characters and moments wrapped in the true symbol of romance: Cupid. Plus, in a fun twist on poster standards, it'll be available in two editions, Detroit and Los Angeles, representing the film's two major locales. Check out the full images and info below.
Here's True Romance by Gabz and Odd City Entertainment. Los Angeles on the left, Detroit on the right.
It's a 24 x 36 inch screenprint and each is a small edition of 85. It'll cost $55 and go on sale at a random time Friday February 21 at the Odd City Entertainment store. Follow @OddCityNews for the announcement.
Here's what Gabz had to say about the momentous task of immortalizing this iconic film:
Coming up with a concept for a movie like True Romance, that I have been a huge fan of for years and is among my favorite Tony Scott films of all time, wasn't as easy as I thought it would be when I first got the proposal. There are so many brilliant quotes, memorable scenes and a mind-blowing soundtrack on top of it all. The Hawaiian shirted Cupid I went with, symbolizing the bizarre romance between Alabama and Clarence, came to me as a revelation and I felt I had a winner. I desperately wanted to not only catch the mood of the film, but also include as many characters as I could possibly fit. I love every single performance from the movie and I felt like everyone deserved a tribute.