Danny Boyle Re-Teaming With 'Slumdog Millionaire' Scribe For Bille Jean King Biopic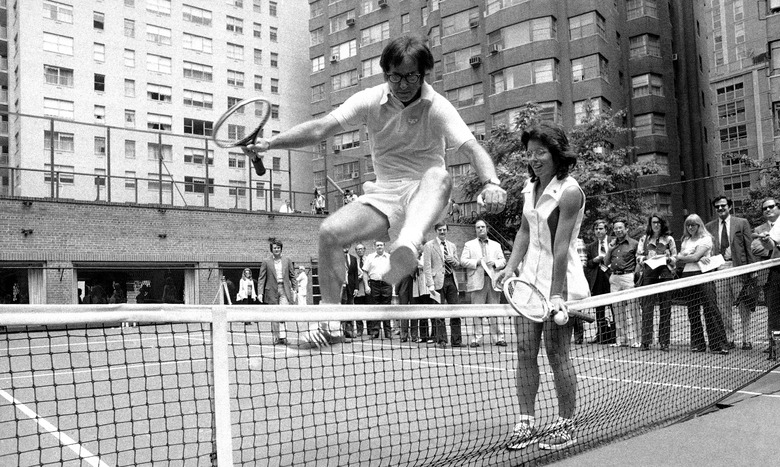 Danny Boyle's next move could be a sports film. The British filmmaker is reportedly working on a biopic of tennis icon Billie Jean King, specifically her legendary "Battle of the Sexes" match against Bobby Riggs in 1973.
That sounds pretty interesting as it is, but what makes this project even more intriguing is that it reunites him with two men behind his biggest recent successes: writer Simon Beaufoy and producer Christian Colson, who both worked on Slumdog Millionaire and 127 Hours. Hit the jump for more details.
The King-Riggs match came about when Riggs, fresh off of a win in another "Battle of the Sexes" match against Margaret Court, began taunting female tennis players everywhere. Though King had originally declined his challenge, she eventually accepted and then dominated him on the court.
Her victory was not without controversy. Some sports commentators pointed out that King had the advantage of being significantly younger, as she was 29 to his 55. There was also speculation that Riggs had purposely thrown the match to pay off a mob debt, although King and Riggs have denied the rumor.
Boyle may not be the obvious choice to direct a sports drama, but he seems like the perfect pick to deliver an inspiring and incredible true story, as he did with 127 Hours. But it's unclear when the movie will actually get going.
The Oscar-nominated director has a couple of other films in the works already, including the long-promised Trainspotting sequel and an adaptation of the heist documentary Smash and Grab: The Story of the Pink Panthers. There's also his new TV show Babylon, a cop comedy from the creators of Peep Show.
For now, those interested in seeing the King-Riggs drama brought to life will have to content themselves with When Billie Beat Bobbie, a 2001 TV movie starring Holly Hunter and Ron Silver. Watch the trailer below.