Meet Sabine, The "Sassy" Weapons Expert Of 'Star Wars Rebels' [Video]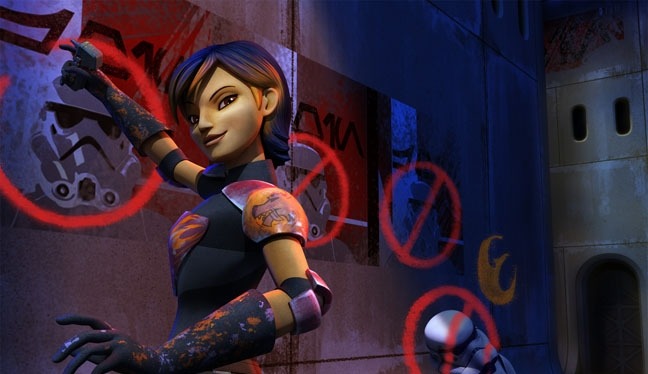 We've met a few members of the Ghost crew from Star Wars Rebels already, including Kanan (Freddie Prinze Jr.), the Han Solo-esque "cowboy Jedi"; Ezra (Taylor Gray), the 14-year-old con artist; and Zeb (Steven Blum), the intelligent muscle. But as cool as these guys look, none of 'em would stand a chance against the Empire without the proper equipment, and that's where Sabine (voiced by Tiya Sircar) comes in.
According to the newest promo for the Disney XD series, Sabine is a "feisty" weapons expert who loves to blow things up, when she's not creating graffiti art. She also happens to be a Mandalorian, meaning she's from the same culture as the beloved Boba Fett. Hit the jump to watch her intro and learn more about her.
Sabine is a really sassy gal, as you can tell by the synonyms used to describe her: "spunky," "feisty," with "a little bit of attitude." She's also a "cool, smart, tomboy" type who's "hip" and "fun" but can be "serious" when needed.
What makes her really unique in this world, though, is that in addition to being "very well versed in explosives," she's also an artistic soul. "She's adding something that we haven't really seen before in the Star Wars universe," says Joel Aron, CG supervisor of lighting and FX. "You have a character that is expressively creative through art — whether it's the color of her hair or what she's done to her armor."
And speaking of that armor, we can't help but notice that her helmet looks a lot like fellow Mandalorian Boba Fett's. There's no personal connection between the characters that we know of (yet), but it's a cool nod to existing Star Wars mythology.
Star Wars Rebels unfolds in the years between Star Wars: Episode III – Revenge of the Sith and Star Wars: Episode IV – A New Hope, following the rise of the rebellion as the Empire tightens its hold on the galaxy. The series will kick off this fall with a one-hour special on the Disney Channel before moving to its regular home on Disney XD.