VOTD: Spike Jonze Challenges Journalist On Her Emotional Response To 'Her'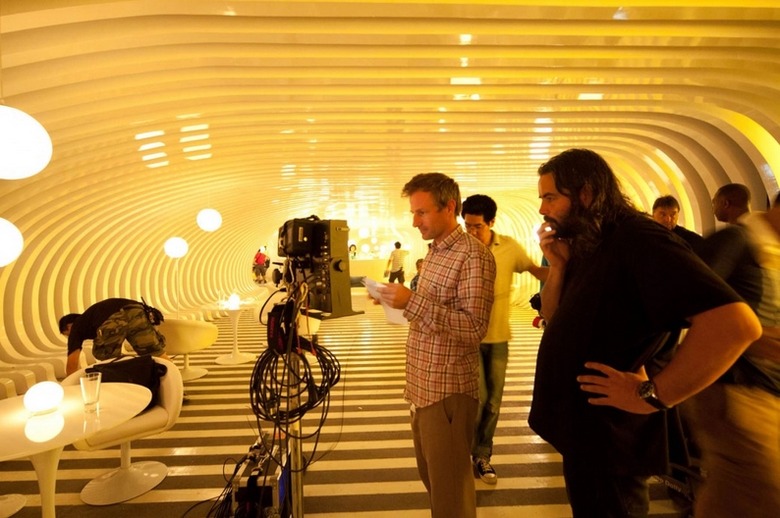 Spike Jonze's fantastic films have made legions of fans. But a new video making the rounds online could give him the respect of non-fans as well. Jonze appeared via Satellite on BBC Newsnight with Emily Maitlis and had a feeling the anchor hadn't seen his movie, Her, or at least wasn't being honest about it. So he kept asking her what she felt about the movie, which she avoided in favor of questions about the technology. It's super awkward and a very ballsy move by Jonze, who could have easily avoided the conflict. Taking the stance clearly throws him off. Check it out below.LAist.com wrote about the video.
Just based on what's in the video, I'm okay with Maitlis even though she comes off like a bit of an ass. She seems to be just trying to look at the film from a technical point of view, and be 100% objective about her opinion. Which is fine, if kind of impersonal and cold. (She also could be prohibited by her higher-ups from airing her own opinion.)
However, Maitlis took to Twitter after the interview to tell the world what she thought of Her. This is where she loses me. You'll see she had some issues with the film. The fact she wouldn't say that to Jonze's face, but would on Twitter, makes the whole thing feel much more disingenuous. Here are her tweets.
Ok .now I can tell you what I thought of #her. Sad, male fetish fantasy of disembodied female who does his bidding..#newsnight

— emily m (@maitlis) February 14, 2014
Like lost in translation for mood but nowhere near as good..#newsnight #her

— emily m (@maitlis) February 14, 2014
But beautifully acted and indeed voiced #her #newsnight .

— emily m (@maitlis) February 14, 2014
Would I go and see it? Yes I would actually. Is it simplistic to call it " just a love story". Yes, hugely. #her #newsnight

— emily m (@maitlis) February 14, 2014
What do you think about this situation?