Video: Meet Zeb, The Alien Ally In 'Star Wars Rebels'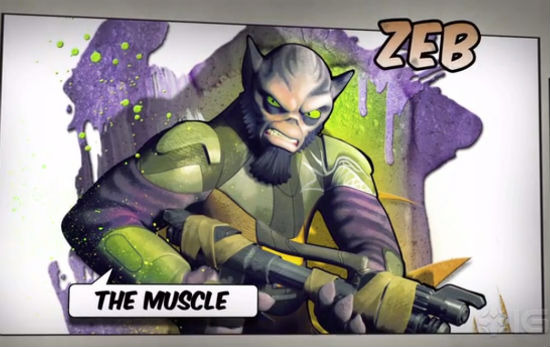 If Kanan is the "Han Solo" and Ezra is the "Luke," Zeb is the Chewbacca of Star Wars Rebels.
The team at Lucasfilm has been slowly revealing new characters from the upcoming Disney XD animated series, which will be the first product of the new Disney Star Wars universe. Next up is Zeb, a muscle-bound, but smart and articulate alien ally of the Rebellion who flies in the Ghost with the rest of the crew. Below, check out a video introduction to our first alien – and a new one at that – of the new Star Wars universe.
Thanks to IGN for the video.
The look of Zeb was heavily influenced by legendary concept artist Ralph McQuarrie's designs for Chewbacca, so the comparison is even more valid on that point. He's voiced by eclectic voice actor Steve Blum, who said the following:
I think I actually screamed when I was booked to play Zeb. It is literally a role of a lifetime. I've been lucky enough to play some major superhero roles in my career, but to be given the chance to play a new character in a Star Wars series? Brain explosion. As if working on a Star Wars series – in any capacity – wasn't enough to cause a grown man to squee, Zeb challenges every acting skill in my arsenal and beyond. His character design is amazing. I get to vocally take on ape-like physical power and abilities, a wicked sense of humor, intelligence and integrity, and so much more that I can't yet reveal. The attention to detail from the entire production team is inspiring. Every bit of minutia is carefully crafted to satisfy the most discerning fan of the franchise. I'm humbled and honored to be a part of the Rebels crew. I promise I will dig as deep as I'm allowed to give you guys the performance I would hope for as a fan. Get ready, guys. You're in for one helluva ride
At this point, we've met five characters from the Star Wars Rebels universe. They all have an archetype in the original Star Wars trilogy, but seem pretty unique nonetheless. Are you happy with that? Do you wish there was more familiarity? Or do you think we'll get that familiarity in the movie universe?