'The Double' Trailer: "You're In My Place"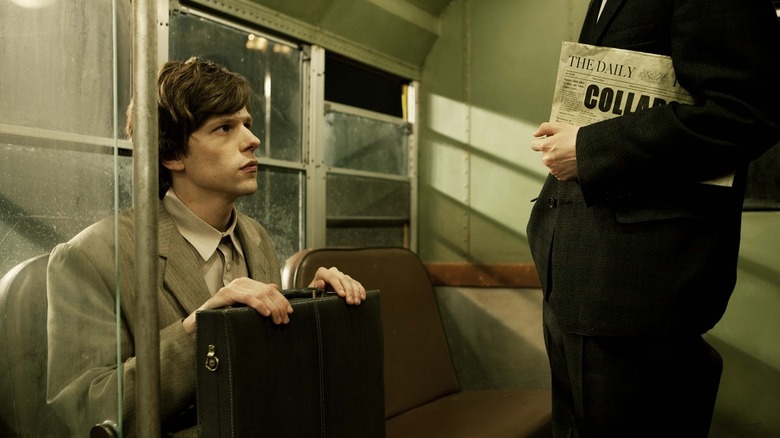 It looks like doppelgangers, weirdly, are going to be one of the micro-trends of 2014. Earlier this month we got The Pretty One, an indie dramedy about a young woman who assumes her dead twin sister's identity, and next month we're getting Denis Villeneuve's Enemy, starring Jake Gyllenhaal trying to track down a man who looks just like him.
Further down on the calendar is The Double, Richard Ayoade's adaptation of the Fyodor Dostoevsky novella. Jesse Eisenberg stars as both milquetoast Simon, who is horrified to discover that his exact likeness / polar opposite, the brash, charismatic James, is taking over his life.
The first few trailers did a great job of getting across the nightmarish vibe of the tale, but the newest one offers a better sense of the plot, as well as a bigger dose of Ayoade's humor and wit. Check it out after the jump.
The Double hit the festival circuit last year to strong reviews and is now headed for a theatrical release. It arrives April 4 in the U.K. and May 9 in the U.S. Mia Wasikowska, Noah Taylor, Wallace Shawn, Yasmin Paige, and James Fox also star.
Simon is a timid man, scratching out an isolated existence in an indifferent world. He is overlooked at work, scorned by his mother, and ignored by the woman of his dreams. He feels powerless to change any of these things. The arrival of a new co-worker, James, serves to upset the balance. James is both Simon's exact physical double and his opposite – confident, charismatic and good with women. To Simon's horror, James slowly starts taking over his life.