'Back To The Future' Power Laces Coming In 2015 Says Nike Designer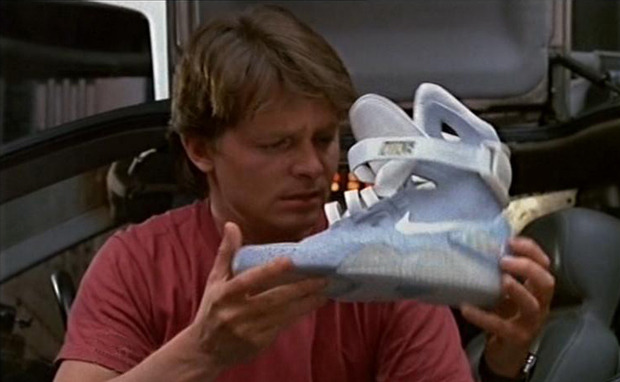 Technically, we've still got one year to go before Marty McFly is due to fly in from 1985 in his DeLorean. But so far, it's not looking all that likely that next year will deliver on the oddly '80s-ish future promised in Back to the Future Part II. There are no hoverboards in the streets, the Jaws frachise stalled after four installments, and fax machines are growing more obsolete by the day.
Still, there's at least one detail that's sure to come true if Tinker Hatfield has anything to do with it. The Nike designer has revealed that power laces are indeed coming in 2015, just as Back to the Future Part II said they would. More on the announcement after the jump.
The announcement follows the 2011 reveal of the limited-edition Nike MAG, modeled after the famous Back to the Future footwear. Only a 1,500 pairs were ever produced, as part of an auction to benefit The Michael J. Fox Foundation; they pulled in nearly $6 million altogether.
As cool as they were, they weren't exact replicas as they did not feature power lacing. But it appears that plans for actual self-tying shoes have been in the works for a long time now. In 2010, Nike applied for a patent for an "an article of footwear with an automatic lacing system."
Hatfield did not offer any other details about the shoes, so as Sole Collector points out, we don't know yet if they'll look exactly like Marty McFly's kicks from Back to the Future Part II. On the other hand, what is even the point of power laces if we can't use them to replicate Marty's outfit from the movie?