First Look: Cameron Diaz And Jason Segel Play With Roller Skates In 'Sex Tape'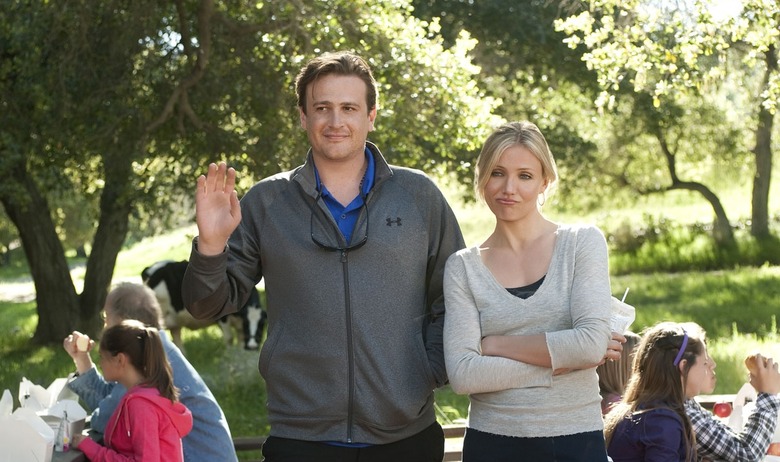 Bad Teacher 2 is happening, but the next team-up of director Jake Kasdan, and stars Cameron Diaz and Jason Segel won't be a follow-up to that foul-mouthed comedy. Instead, the trio are reuniting for Sex Tape, an unrelated comedy about a married couple who decide to spice things up in the bedroom.
You can probably guess what one of their tricks is, just based on the title of the movie. Another seems to involve roller skates, as shown in this first still. Has someone been watching Boogie Nights? Hit the jump to check it out.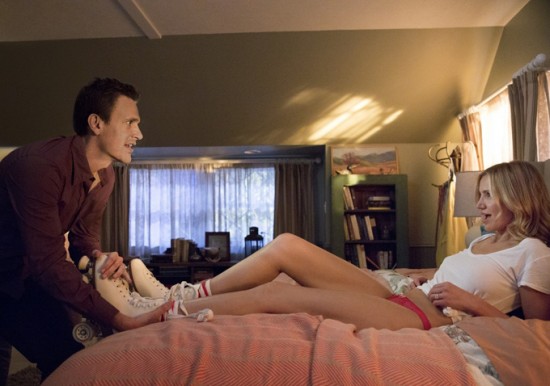 Something about this image suggests that things are about to go south, and not in a sexy way. Odds seem good that Segel will end up with a broken nose.
Whatever happens here, it's probably just the start of this pair's troubles. The script, written by Kate Angelo, has these two making a sex tape only to discover the next morning that the video has gone missing. The rest of the film follows their desperate attempts to recover it before it falls into the wrong hands.
Sex Tape opens July 25.
When Jay (Jason Segel) and Annie (Cameron Diaz) first got together, their romantic connection was intense – but ten years and two kids later, the flame of their love needs a spark. To kick things up a notch, they decide – why not? – to make a video of themselves trying out every position in The Joy of Sex in one marathon three-hour session. It seems like a great idea – until they discover that their most private video is no longer private. With their reputations on the line, they know they're just one click away from being laid bare to the world... but as their race to reclaim their video leads to a night they'll never forget, they'll find that their video will expose even more than they bargained for.