Watch Two New 'Star Wars Rebels' Teases: The Rebellion Ignites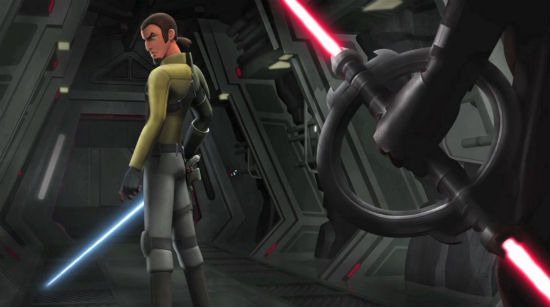 With four official characters introduced, the image of Star Wars Rebels is beginning to take shape. The Lucasfilm/Disney animated series will tell Star Wars fans how the rebellion against the Galactic Empire grew from its earliest stages to the strong organization that blew up two Death Stars. In that time between Episodes III and IV, we know there will be an evil Sith named The Inquisitor, a droid named Chopper, a hidden Jedi named Kanan and a poor, street smart kid named Ezra, who Kanan takes under his wing. These characters will be at the center of the show when it premieres this summer on Disney Channel before moving to Disney XD in the Fall.
Today two 30 second promos have come online. These show us the first complete footage we've seen from the series. Check them out below.
Thanks to Star Wars on YouTube for the links.
Not a lot of footage. It's more about John Williams' score, which isn't confirmed for use either, but you do get a bit of an idea of tone. And that tone is "Star Wars."
The more we learn about this show, the more cautious my optimism is. With Kanan as a Jedi, and Ezra as his pseudo-apprentice, won't they have to die at some point before R2-D2 gets the plans to the Death Star if they're truly one with the Force? George Lucas' films are pretty specific in saying there are no Jedi left besides Luke and Leia once the Rebellion finally takes shape. Tying this story into those is what I'm very curious about. But – the tone is definitely right and there's surely tons more to be revealed. What do you think?