First Footage: 'Unbroken,' From Director Angelina Jolie And Cinematographer Roger Deakins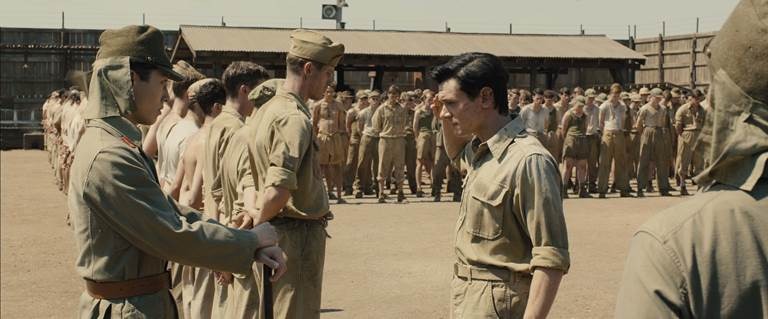 Unbroken is the story of Louis Zamperini, an American Olympian who competed in 1936, and a World War II veteran who survived a plane crash at sea during the war only to be picked up by the Japanese Navy and interred in a POW camp.
Angelina Jolie directs the film as her follow-up to In the Land of Blood and Honey, but it's a few of the other names in the crew roster that might get your attention: Roger Deakins (No Country For Old Men, Skyfall, Prisoners) shot the film, and Joel and Ethan Coen did some work on the script. (Just how much we don't know, but their involvement is a good bullet point in Universal's sales pitch if nothing else.)
Here is an unusual "trailer," written and cut specifically for an Olympic audience, with narration by Tom Brokaw and vintage photos and footage of Zamperini cut into the footage from Jolie's film along with a recent interview with Zamperini.
Unbroken opens on Christmas Day, 2014.
Academy Award® winner Angelina Jolie directs and produces Unbroken, an epic drama that follows the incredible life of Olympian and war hero Louis "Louie" Zamperini (Jack O'Connell) who, along with two other crewmen, survived in a raft for 47 days after a near-fatal plane crash in WWII—only to be caught by the Japanese Navy and sent to a prisoner-of-war camp.
Adapted from Laura Hillenbrand's ("Seabiscuit: An American Legend") enormously popular book, Unbroken brings to the big screen Zamperini's unbelievable and inspiring true story about the resilient power of the human spirit. Starring alongside O'Connell are Domhnall Gleeson and Finn Wittrock as Phil and Mac—the airmen with whom Zamperini endured perilous weeks adrift in the open Pacific—Garrett Hedlund and John Magaro as fellow POWs who find an unexpected camaraderie during their internment, Alex Russell as Zamperini's brother, Pete, and in his English-language feature debut, Japanese actor Miyavi as the brutal camp guard known only to the men as "The Bird."
The film is produced by Jolie, as well as Matthew Baer (City by the Sea), Erwin Stoff (The Day the Earth Stood Still) and Clayton Townsend (This Is 40). Leading the accomplished behind-the-scenes crew is 10-time Oscar®-nominated cinematographer Roger Deakins (Skyfall). Academy Award® winners Joel and Ethan Coen (No Country for Old Men) rewrote the screenplay from earlier drafts by William Nicholson (Les Misérables) and Richard LaGravenese (HBO's Behind the Candelabra).