Michael Keaton And Tim Burton Have Been Chatting About 'Beetlejuice 2'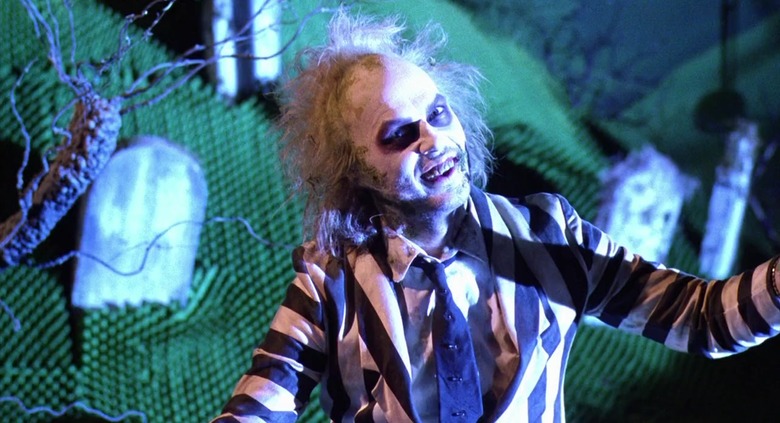 After reviving one '80s classic, Michael Keaton is ready to revisit another. The Robocop star confirmed he's been chatting with director Tim Burton about the upcoming Beetlejuice sequel — though it doesn't sound like he's 100% locked in just yet. Hit the jump to read his comments.
I've e-mailed Tim a couple of times, talked to the writer a couple of times, but all really, really preliminary stuff. I always said that's the one thing I'd like to do again, if I ever did anything again. But it kind of required Tim to be involved some way or another.
As of last fall, Burton was in talks to helm. Given that, Keaton sounds pretty close to signing on himself.
Now it looks like he is involved. And without giving too much away we've talked to each other, and e-mailed each other, and if he's in, it's going to be hard not to be in.
David Katzenberg and Seth Grahame-Smith, who are writing the sequel, have stressed repeatedly that they only want to make the movie if Burton and Keaton are involved. Plot details have not been revealed, but we know it's a sequel rather than a reboot, and that it'll pick up 20 something years after the events of the original.
Burton is currently tied up doing post-production for Big Eyes, an art biopic starring Amy Adams and Christoph Waltz, but his schedule looks clear beyond that. Presumably, that means he could take on Beetlejuice 2 as his next directorial effort.
Keaton's kept a pretty low profile since 2010's The Other Guys, but his entertaining turn as the villain of this week's Robocop serves as a nice reminder of how great it is to have him around. He'll next appear in Need for Speed, due out in March, and Alejandro González Iñárritu's Birdman.