Star Wars Bits: Meet Ezra The Con Artist From 'Star Wars Rebels,' Plus ILM, Auditions And Legos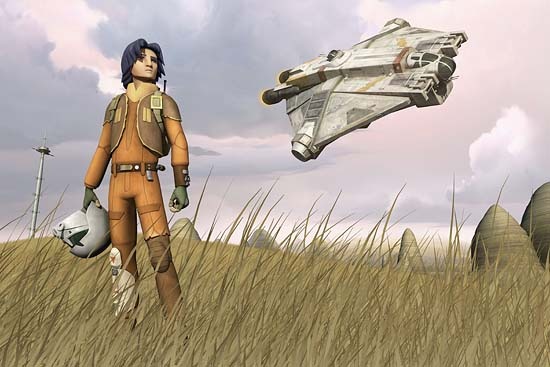 The effects of Star Wars Episode VII are being felt everywhere: Industrial Light and Magic, the Internet, the acting community. Read all about that — and a lot about Star Wars Rebels —  in this edition of Star Wars Bits.
Meet Ezra, a 14-year-old con artist from Star Wars Rebels.
Two new trailers for Rebels will debut February.
Industrial Light and Magic opens a London office to work on Star Wars Episode VII.
Lucasfilm relaunches their website.
See high quality images of the Star Wars Rebels Lego sets as well as the Hasbro version of Kanan...
... as well as two new not-yet-revealed characters too: Zeb Orrellos and Hera Syndulla.
Actor Daryl McCormack describes multiple call backs for Star Wars Episode VII.
Endless Love star Alex Pettyfer confirmed he was contacted about Episode VII.
Tom Hiddleston was not contacted, however.
An update on Star Wars Celebration Anaheim.
TV Guide just debuted our first look at Ezra, a 14-year-old con artist from Star Wars Rebels. He's voiced by Taylor Gray and sort of portrays a Luke Skywalker type in that he's poor and innocent. He ends up on The Ghost (more on that below) with Kanan as his mentor. Here's a video.
And here's Dave Filoni on the character.
With Ezra we see how a kid is reacting to this imperial rule. That becomes a big question: What is imperial rule like? We've seen it in the movies with a big rebellion that ends up blowing up the Death Star, but do we just assume that when the Empire took over in Revenge of the Sith it was seen as a bad thing? I would challenge that. It wasn't this terrible thing that came in and was cruel to everyone all at once. It was slow to build its power base and spread out, and then we get to see the rebel alliance it affects, and the repercussions of that tyranny.
Read more at TV Guide, who also report the Disney Channel special will be one hour long and two trailers will air February 17.
The Hollywood Reporter broke the news that Industrial Light and Magic (ILM) is opening a new office just outside Soho section of London. The opening will happen just before filming starts on Star Wars Episode VII, but that won't be the only film they work on. It'll be a full-fledged facility and they're also expecting to work on Avengers: Age of Ultron, which will also be filming in the UK at the same time. Read much more at that link.
Lucasfilm recently relaunched their website with a whole new design. It's a slick, beautiful-looking experience with tons of behind-the-scenes images from their multitude of films (including some Episode VII concept art). But there's a ton of other cool stuff there, too. Check it out: lucasfilm.com.
Back to Rebels, USA Today debuted a few hi-quality images of Kanan's ship The Ghost as well as The Phantom, flown by Ezra (above), in Lego form, plus the Hasbro version of Kanan:
Notice how The Ghost has a bunch of other mini figs? IO9 blew that up to reveal two new Star Wars Rebels characters: Zeb Orrellos and Hera Syndulla.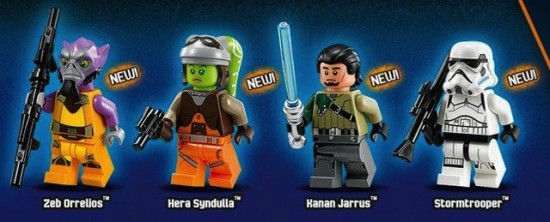 Irish actor Daryl McCormack spoke to the Independent (via JediNews) to talk about the Star Wars Episode VII auditions. Hunger Games, huh? Interesting:
After the first stage there was a call back that afternoon and we had to play out a scene from 'The Hunger Games' to the camera.
A couple of weeks later they rang me to record two scenes from the actual 'Star Wars' film for them and send it over. I had almost forgotten about it at that point so I was delighted.
In an interview with the Edmonton Sun, actor Alex Pettyfer confirmed there had been "reaching out" about a possible role in Star Wars Episode VII, but he never heard much beyond that. Read more there or at JediNews. On the other hand, Avengers actor Tom Hiddleston told Time Out London he was not contacted about the film despite rumors.
Finally, the Star Wars Blog posted an entry on initial meetings for 2015's Star Wars Celebration Anaheim. We should get some official announcements in the next few months, but head there to read about it right now.