White House Calls Upon Nation To Not Spoil 'House Of Cards' Season 2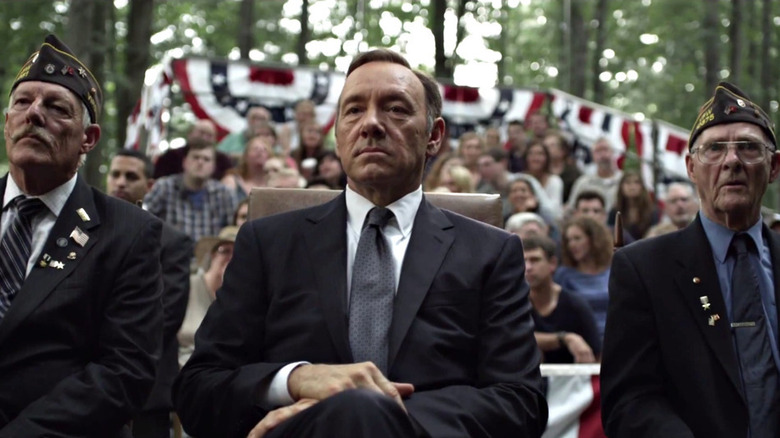 At 3:01 AM Eastern time this morning, Netflix debuted thirteen new episodes of House of Cards. Fans are binging their way through Season 2 as we speak so if you've notice a suspicious proportion of your office has gone missing today, there's a good chance Frank Underwood is to blame.
But not everyone has the luxury of taking the day off to spend 13 consecutive hours on the couch. Some folks have more pressing matters to attend to — like running the country. Yesterday evening, President Barack Obama spoke for TV lovers on both sides of the aisle when he called for binge-watchers to refrain from spoiling the show for the rest of us. Hit the jump to see his comment.
Tomorrow: @HouseOfCards. No spoilers, please.

— Barack Obama (@BarackObama) February 13, 2014
Though the message doesn't include the "bo" stamp indicating that Obama wrote the message himself, a White House staffer confirmed to USA Today that the president plans to watch the show this weekend.
Obama has long been an enthusiastic fan of the show. He joked he wishes the real D.C. was as "ruthlessly efficient" as the version on the show, and listed House of Cards alongside Game of Thrones and Boardwalk Empire as one of his favorite shows of 2013.
However, it may be a while before the President can lift the unofficial spoiler ban on House of Cards. Obama is so busy, he admitted in December that he still wasn't caught up on Breaking Bad.
Fortunately, Netflix is already on top of the spoiler problem.
For those of us climbing to the top of the food chain, there can be no spoilers. #HouseofCards http://t.co/8eGLQWqGjx

— Netflix (@netflix) February 14, 2014
The streaming service previously issued a Spoiler Foiler for the final season of Breaking Bad. The tool allows users to see a censored version of their Twitter timeline on SpoilerFoiler.com, with any tweets containing potentially spoiler-y content hidden under a spoiler warning.