See How Jake Gyllenhaal Acts Opposite Himself In The Thriller 'Enemy'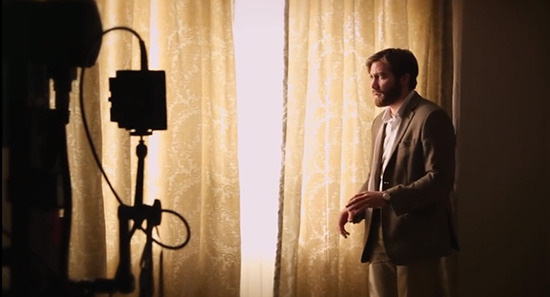 As Angie said this morning, the mini-trend this year seems to be films featuring doubles or dopplegangers. She mentioned that while covering the trailer for Richard Ayoade's The Double, which offers a blackly comic look at a man who finds a much more successful version of himself.
Enemy, from director Denis Villeneuve, is something a little more weird. The film is the second pairing of the director and his Prisoners star Jake Gyllenhaal, and it's a cold, unnerving nightmare in which a mild, stagnating teacher comes face to face with his own double. Both men look the same, and sound exactly the same, but each has a slightly unique nature. The film is a low-key and beautifully shot hallucination that could be interpreted in a few different ways. I loved it, and would encourage anyone intrigued by the premise and tone to check it out.
Below, you can watch a making-of featurette that shows the old-school techniques used to allow Gyllenhaal to play both lead roles. There's nothing important given away here; certainly the most striking and odd moments of the film remain hidden away.
Enemy is playing on DirecTV now, and will be in theaters on March 14.
ENEMY tells the story of a university lecturer named Adam (Gyllenhaal) who is nearing the end of a relationship with his girlfriend Mary (Laurent). One night, while watching a film, Adam spots a minor actor who looks just like him. Consumed by the desire to meet his double, Adam tracks down Anthony, an actor living with his pregnant wife Helen (Gadon) and engages him in a complex and dangerous struggle. The film is a haunting and provocative psychosexual thriller about duality and identity, where in the end only one man will survive.